The Fraser Glaciation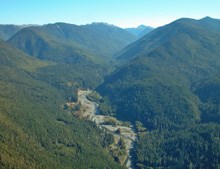 The Beginning:
During the Fraser Glaciation, which occurred between 25,000 and 10,000 years ago, sheets of ice up to 5,000 feet thick covered current day Elwha area. Though it is uncertain as to how the area looked prior to the glacial retreat, striations in bedrock and deposited boulders give a clue as to the approximate path by which the ice moved.
As the glaciers receded, they carved through the land, creating troughs between the mountains and leaving behind streams from which water flowed in route to the ocean. When the ice retreated from the Strait of Juan de Fuca, fish began to recolonize the 70 miles of pristine aquatic habitat which was named the Elwha by the native inhabitants of the land who came many years later.

This webpage was made possible in part by a grant from Washington's National Park Fund.
Last updated: February 28, 2015