Settlement of the Elwha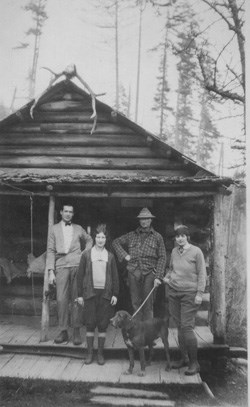 The earliest documented Euro-American settlers were two Hudson Bay Company employees who crossed the Strait of Juan de Fuca from Victoria, British Columbia in about 1850. Men were the early homesteaders in the Elwha valley. They came here in route to the Alaska gold fields or as a result of trappings for the Hudson Bay Company. Early census records indicate that the area was occupied mostly by single males between the ages of 21 and 41. The major settlement of the Elwha Valley by non-Indians occurred in two phases.
Between 1861 and 1890, the majority of settlement occurred in the lower valley, from the mouth of the river to Indian Creek. These areas were settled first because of transportation. The land was rugged, uncleared forest, making transportation by water a much more feasible option. Settlers worked their way inland along the river, clearing plots for farming. Further into the mountains where the river valleys narrowed, settlement occurred slightly later and more sparsely. Before the settlements, Klallam families were living mostly near the mouth of the river. While some were displaced during Euro-American settlements, several other families settled claims under the Indian Homestead Act.
The upper Elwha Valley was settled during the 1880's and 1890's, when advertisements promising free land drew families to the area. During the mid 1890's, there was another influx of settlers. The homesteaders had to clear the land to make way for small croplands in order to sustain the family. They slowly built their log or wood-frame homes using local materials. Most settlers were forced to seek an additional source of income as pack guides, bounty hunters, or mill works. Few buildings dating from this era have survived to the present.
One of the first women to settle on the Elwha with her family was Inez Isbell. Inez wrote some descriptive letters about the construction of her and her husband's home in 1896. She wrote about putting in half of a window and of filling the inside cracks of their board and batten home with moss which made it nice, warm, and quite picturesque.
There was a great sense of community in the Elwha Valley. Newspaper stories document that school functions, and regular socials were a common occurrence that served to bind the community. The river served as a background for this community. As it threaded through properties, it provided a wealth of fish. Not only did the fish provide food, but the multitudes of spawned out salmon also served as fertilizer for the farms.
Last updated: February 28, 2015