Settlement of Ozette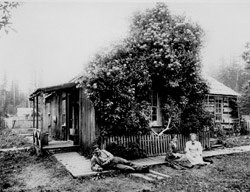 As many as 130 homestead families called Lake Ozette home in the early 1890s. Schools, a post office, stores and a church sustained the farming community. Life was hard on this remote tip of the country.
For years, the only access to the lake from other communities on the peninsula was by ship to the mouth of the Ozette River or by a a 25-mile trail along the Hoko River from a small settlement at Clallam Bay. Stores, post offices, and schoolhouses were eventually established around the lake.
The promise of free agricultural land brought people to the area surrounding the lake. The majority of homesteaders were of Scandinavian descent. The community was short-lived, however. In 1897 when Ozette Lake was included in the newly created two million acre Olympic Forest Reserve, many settlers left, abandoning their homes and possessions that proved too heavy to transport across the lake. By 1899, very few families remained.
Just after the turn of the century, land bordering Ozette Lake was reopened for homesteading and a second wave of settlers arrived in the area. Many moved into already existing settlers' homes and pursued a lifestyle similar to their predecessors. Homesteads were occupied with constructing living quarters, farm buildings and fences, cultivating land and aquiring farm animals.
It was not until 1926 that the long-anticipated and hoped-for road came and broke the isolation of the Ozette community. The road linked Clallam Bay and Swan Bay at the east side of the lake. Electricity didn't arrive until the early 1960s.
In 1940 President Franklin Roosevelt authorized the Public Works Administration to acquire the Ozette Lake area, as well as the long, narrow coastal strip, for inclusion in Olympic National Park. By several years later, when the area was evaluated for its historical value, almost all homesteaders had abandoned their properties. Practically all the buildings had deteriorated beyond repair.
Read more (pdf)
Last updated: February 16, 2018