Prehistoric Inhabitants of the Olympic Peninsula
Discoveries of the past century have presented archaeologists with an assemblage of artifacts and remains that shed light on the peninsula's history and its inhabitants.
In an area just outside Olympic National Park, remains of a mastodon with a spear-point embedded in its ribs provide clues to the earliest prehistoric occupation. It was likely that the earliest prehistoric period, between 12,000 to 6,000 years before present (B.P.), inhabitants of the peninsula hunted large land animals as a means of subsistence. The following several thousand years are marked as one of major adaptive change as the exploitation of salmon and flatfish became the major means of subsistence.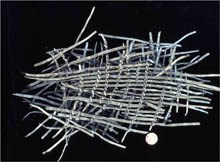 Archaeological findings have also revealed clues about prehistoric inhabitant's along the coastal areas. While earlier times were characterized by the exploitation of marine resources and the use of flaked stone lithics, hallmarks of the following period are villages of large cedar-plank houses, the absence of flaked stone tools, and major dependence on large sea mammals (such as whales, fur seals, as well as fish). This is known largely from the Ozette Site where large-scale excavations took place in the 1960's and 1970's.
The overall trend in the prehistoric history of the peninsula is the transition from a highly mobile foraging system to an increased dependence on aquatic resources. The strategies were dependent on availability. The northern coast emphasized the use of large sea mammals while inhabitants near creeks and rivers likely relied more heavily upon salmon.
Last updated: February 16, 2018