Hurricane Ridge: Post-Fire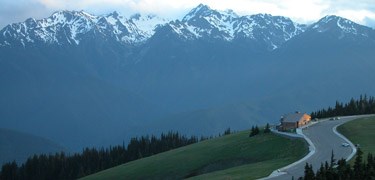 Information and updates about the Hurricane Ridge area following the May 7, 2023 fire that destroyed the Hurricane Ridge Day Lodge (Visitor Center).
Hurricane Ridge Day Lodge (Visitor Center) Frequently Asked Questions:
Why Can't I get to Hurricane Ridge?
The Hurricane Ridge area will remain closed while investigators determine the cause and origin of the fire that destroyed Hurricane Ridge Day Lodge on May 7.
When will Hurricane Ridge re-open?
It is too early to say. Before the area is reopened, park officials will need to assess and mitigate any hazards to ensure the area is safe for the public.
Can I hike into the Hurricane Ridge area?
Keep in mind that snow still covers much of the area in and around the ridge. Adventurous hikers can still access areas near Hurricane Ridge, but Hurricane Ridge Road beyond Heart O' the Hills campground and the Hurricane Ridge area are closed to the public.
Are there other places in the park that are still open?
The good news is that the majority of the park is open and accessible. Visit our Plan Your Visit Page for ideas on where you can go and what you can do.

How can I help? I want to donate to the rebuilding of the lodge.
Thank you for your support of Olympic National Park. It's too soon to say what will happen, but in the meantime, you can help the park by visiting Washington's National Park Fund's web page and social media platforms. The Fund is the park's official philanthropic partner.
Last updated: May 15, 2023