Camp Hosts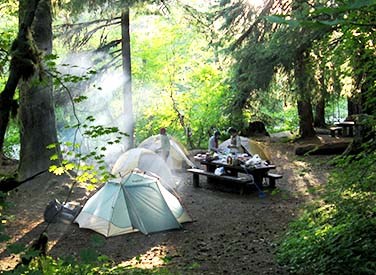 Camp hosts are an integral part of the summer season at Olympic National Park. Our campgrounds range from busy front-country sites to more remote, less-visited locations.
Commitment
Camp hosts are asked to volunteer a minimum of 32 hours a week assisting rangers with general campground responsibilities as well as assisting campers. Each location has unique character and hosts will work with rangers to learn about area responsibilities. Most host sites are provided electric, sewer, and water hook ups. Other amenities depend on the location.
Qualifications
Camp hosts should enjoy being in contact with people and be able to greet the public in a friendly, helpful manner. Applicants should have initiative and willingness to learn; you should also have the ability to make sound, common sense decisions with an emphasis on safety.

Current opportunities to volunteer as a camphost will show below when positions are available.
Current Volunteer Opportunities
Last updated: December 17, 2021