Getting Around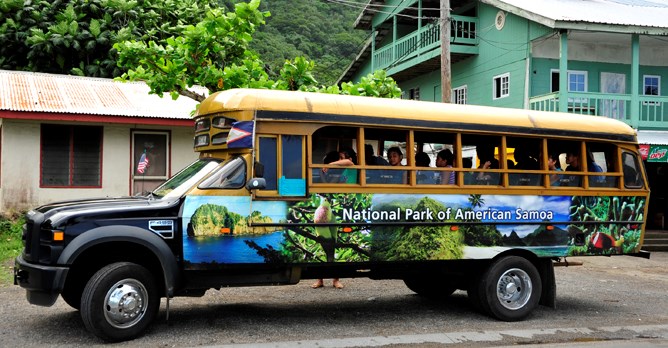 Ground transportation

Car Rentals
Several car rental facilities are available near the Pago Pago International Airport.
Taxis
On Tutuila, taxis are available at the airport and near the market in Fagatogo. They can also be flagged down from anywhere that is safe for them to stop.

Buses
The island of Tutuila has public transportation (frequent, but unscheduled) via "aiga" or "family" buses. For 50 cents to two dollars, you can be driven around Pago Pago Harbor and to the more remote parts of the island. You can wave buses to stop or be dropped off anywhere they can safely pull off of the road. Buses do not run on Sundays.

There are two buses that travel to the national park. Look for a bus in the Pago Pago Village area with signage for Vatia. Vatia Village is located within the national park. Be prepared to wait up to an hour for the bus.
All buses are labeled with the village name from where they start and end their routes. Each bus is individually owned and operated, so there are no established schedules.
Manu'a Islands (Ta'u, Ofu, and Olosega)
Rental cars, taxis, and buses aren't available. If staying with a Homestay family, check with them for transportation options.


Last updated: July 1, 2015