Directions

Getting to American Samoa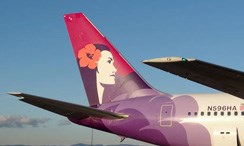 Since the park is in a remote part of the South Pacific and has limited access opportunities, unless you live in American Samoa, more than casual planning is required to visit the park. The nearest airport is Pago Pago International Airport on Tutuila Island.
Currently, Hawaiian Airlines is the only major carrier to American Samoa. They provide two flights a week round-trip from Honolulu, Hawai'i.
The International Airport at Upolu in nearby (Western) Samoa is served by several flights weekly from Australia, New Zealand, and Fiji. Connecting flights serve Tutuila from Upolu by small aircraft nearly daily.
Getting Around the Islands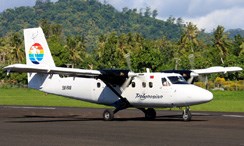 Inter Island Flights
Small planes serve park areas on Ta'u Island and the nearby nation of Samoa. Transportation to the other park area on Ofu Island is by local boat from Ta'u.
Currently Polynesian Airlines is the only carrier to the Manu'a Islands. Flexibility is important when venturing to these remote islands. For more information call 684-699-9126, 684-699-9127, or visit
Polynesian Airlines' website
.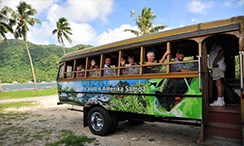 Public Transportation
Several car rental agencies are available near the airport. On the island of Tutuila, taxis are available at the airport and throughout the island.

Local aiga or family buses are available (frequent,but unscheduled). For 50 cents to two dollars,you can be driven around Pago Pago Harborand to the more remote parts of the island. Buses originate and terminate at the market in Fagatogo,the village next to Pago Pago. Buses do not run on Sundays. You can wave buses to stop or be dropped off anywhere they can safely pull off of the road.




Last updated: February 5, 2015