Nafanua, The Guardian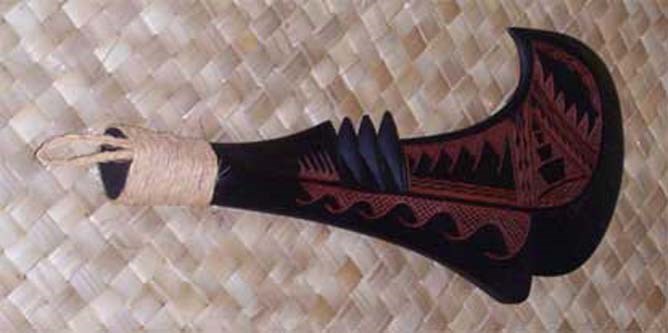 The legend of Nafanua, the guardian and goddess of war in Samoa
Nafanua is a titled woman known throughout Samoa as a goddess of war. She was bestowed the title because she was highly respected by her family and village council and very dependable. As a goddess of war, it was her responsibility to protect her family and save her village from enemies. Her village was located on the western side of the island of Savai'i'i.
During Nafuana's time, there was a war between the eastern and western sides of Savai'i'i as each side was competing for the land and title of the entire island. In the Samoan culture, land is very important because there are more people than inhabitable land. A family is more prestigious if they own a lot of land; and the family members (especially males) receive greater titles. Because of this tradition, Lilomai'ava, the High Chief from the eastern side of Sava'i'i, tried to conquer the whole island. During this war, if High Chief Lilomai'ava caught anyone from the east side on the west side, he would force the person to climb a coconut tree feet first, with head down as a punishment. He did this to show his power to the whole island that he planned to conquer.
One of the villagers that high chief Lilomaiava caught was Ta'ii (the uncle of Nafanua), and the older brother of Saveasi'uleo. Ta'ii was punished and was forced to climb the coconut tree feet first. As he was climbing the coconut tree, he let out a huge sigh because the climb was difficult. Ta'ii's sighs were overheard by Saveasi'uleo and Nafanua. This made Savesi'uleo angry; consequently he told Nafanua to cut down the Toa tree. The wood from the tree was to be used to make weapons to drive away the High Chief Lilomai'ava and his army. Immediately Nafanua cut down the Toa tree and left it there to dry. A few days later, she went back to the area where the Toa tree was cut and discovered that the tree attracted lots of Pule (seashells). "E gase toa ae ola pule". Literally this means that the shells are living but the Toa tree is dead. But metaphorically speaking, although we have great strength and power as human beings, we do not succeed if we do not have wisdom to make a good, solid decision. It takes courage to make wise decisions.
Then Nafanua's father asked her to make four weapons from the Toa (also known as Koa) wood. These are the names of the four weapons:
1. Ta Fesilafa'i (shown above) - This was her first and primary weapon and she used it most of the time during the battle.
Description of weapon: It is shaped like a wide hook facing side out and has three to four pointed sharp teeth facing side ways. During wartime, this weapon is plain and not painted or decorated.
2. Fa'auli'ulito - This is the weapon that Nafanua had assigned to Matuna and Matuna (her adopted parents) to use while fighting. Nafanua had asked the couple to strike from the enemy side. She had planned to come in the middle so that she could meet the enemy and try to convince them to unite in peace and harmony. She told her adopted parents to be careful as it was difficult for her to identify the enemy.
Accidentally, she killed her adopted parents.
Description of weapon: It is shaped like a plain stick but has a rounded, thick, heavy and wide edge. It almost has the same shape as a policeman's "Billy club".

3. Ulimasao - This is a stand-by weapon to be used to end war and bring peace. Ulimasao also means driving safely.
Description of weapon: It is shaped like a canoe paddle with round, smooth sides and one pointed edge.

4. Fa'amategataua - This is a second reserve weapon and it is the most dangerous weapon of the four. According to the late Silivelio Suafo'a (orator of this legend) this war club was not meant to be used.
However if necessary, she would use the club. It was fortunate that Nafanua did not need to use the fourth weapon called "Weapon of Death". It is so powerful that if used it would kill everyone including her family.
Description of weapon: It is shaped like a spear but has teeth on both sides. The number of teeth varies from five to seven.
The war ended because Nafanua's apana (shirt) was blown upward by the wind revealing her breasts. Up to this time the men did not know she was a woman. When they discovered that she was a woman, they decided to end the war. They felt humiliated because there was only one woman among several men fighting the war. This concludes the story about the Goddess of War, Nafanua, who was famous throughout Samoa, especially on the island of Savai'i.
Suafoa – Taua'i
Last updated: February 28, 2015