Park Store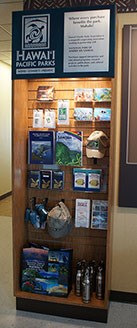 The park store at the Visitor Center in Pago Pago is operated by
Hawaii Pacific Parks Association
. Their website includes an online store.
Hawai'i Pacific Parks Association is a non-profit cooperating association working in partnership with six national parks in Hawai'i and American Samoa. Proceeds from our park stores support interpretation, educational programs, research projects, publications, and cultural activities in the National Park of American Samoa. Every purchase benefits the national parks!
Let our park store be your connection to the very best information on the National Park of American Samoa. Many of our items are created by experts who love to share their knowledge and passion for this exceptional Pacific island park.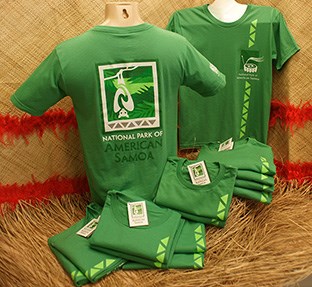 National Park of American Samoa Shirt
Our very popular, vibrant, 100% cotton t-shirt for the National Park of American Samoa celebrates the astonishing natural and cultural resources of this South Pacific gem. The back of the shirt features a stylized fruit bat, occupying the foreground of the shirt graphic (the only mammal native to the national park), and in the background are the soothing green tones of the rainforests which grow right down to the sea. The shirt front references the Samoan culture with a whisk, ava bowl, and a siapo inspired pattern running lengthwise.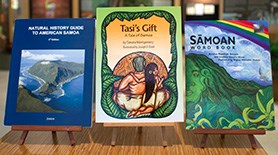 Natural History Guide to American Samoa
is a collection of writings by 30 authors with first-hand knowledge of American Samoan resources.
Tasi's Gift: A Tale of Samoa
is a touching story of selfless giving brings together Samoan song, dance, and design. A young girl learns to carve traditional bowls from her grandfather and a few magical forest helpers. The
Samoan Wordbook
features beautifully illustrated vocabulary words, a pronunciation guide, and a glossary. Categories include family, home, school, the body, clothing, food, opposites, numbers, nature, and time.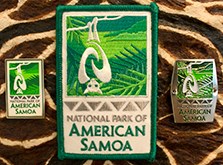 Pin | Patch | Hiking Medallion
Show your friends and family where you've been (and where you intend to go!) with these brand new colorful keepsakes done in a sleek modern style that depicts the National Park of American Samoa.
Last updated: February 5, 2020