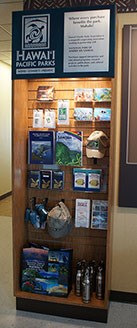 The park store at the Visitor Center in Pago Pago is operated by
Hawaii Pacific Parks Association
. Their website includes an online store.
Hawai'i Pacific Parks Association is a non-profit cooperating association working in partnership with six national parks in Hawai'i and American Samoa. Proceeds from our park stores support interpretation, educational programs, research projects, publications, and cultural activities in the National Park of American Samoa. Every purchase benefits the national parks!
Let our park store be your connection to the very best information on the National Park of American Samoa. Many of our items are created by experts who love to share their knowledge and passion for this exceptional Pacific island park.