Veterinary Epidemiologist
"I love working for the National Park Service because there is such an incredible sense of morale. People care so much about their jobs and what we do is very important. I take a tremendous sense of pride in feeling that what I am doing is helping to preserve and protect not just the health of visitors but also the resources in these parks, and it really is such a tremendous resource and unbelievable opportunity to work to preserve the nation's parks." - Danielle Buttke, NPS Veterinary Epidemiologst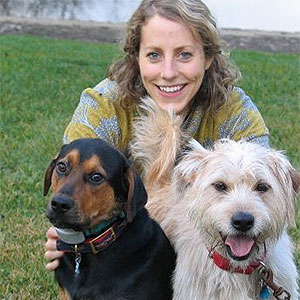 Meet Danielle
Danielle is a veterinary epidemiologist and the One Health coordinator for the National Park Service. In her job, Danielle works with parks to prevent and manage human, animal, and environmental health issues. She helps the National Park Service take a holistic approach that is needed to understand, protect, and promote the health of all species –the concept of One Health– because human and animal health are inextricable linked.
"I love the variety that I have in my job. I am able to work on many, many different subject areas...Many different people are partners, and it seems as though there is always something new every day...It allows me to continue learning and I really feel as though I am able to provide a service to people and make a difference. We are dealing with diseases that might actually take people's lives or cause serious illness and so it is a very rewarding position."
Danielle discovered her interest in animals and the natural world early in life. She grew up on a dairy farm and saw first-hand the connection between the health of the environment and the health of animals. Her interests started her on a path in veterinary medicine where she was introduced to epidemiology–the study of patterns, causes, and effects of health and disease conditions in defined populations. She now holds a doctorate in veterinary medicine, a PhD in biomedical sciences, and a master's in public health. Danielle is board certified in veterinary preventative medicine.
Danielle's Advice
"The education process is a journey and it's most important that you let your interests take you where you go rather than deciding on a path and ending up there later without really experimenting and recognizing what other opportunities exist...I didn't learn about epidemiology until much later in my educational career and thank goodness I was still open to pursuing another path because I am very happy where I am today."
Watch Danielle's video interview below.
Last updated: February 22, 2016