Deer Management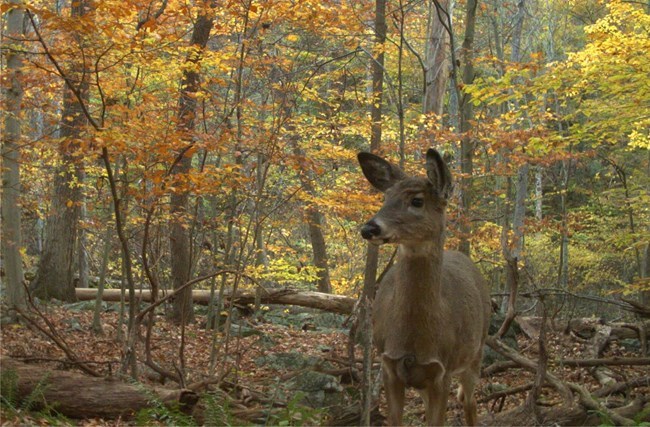 To protect and restore native plants and promote healthy and diverse forests, the National Park Service proposes to reduce overabundant deer populations in several national parks in DC and Maryland. These fall under the management of National Capital Parks - East, and include Anacostia Park, Greenbelt Park, Fort Washington Park and other parks.

The purpose of this proposed plan is to develop a white-tailed deer management strategy that supports long-term protection, preservation and restoration of native plants and landscapes in these parks. Within forests, deer can significantly reduce forest regeneration by eating tree seedlings and preventing them from growing taller and becoming saplings. Over time, this can degrade forests and the habitat they provide for other animals and plants. Through the proposed deer management plan and environmental assessment, the management of the deer population will allow for the restoration of native vegetation and landscapes. 
Several national parks in the Washington, DC, area have approved and implemented deer management plans. Rock Creek Park has seen tree seedling densities almost triple since starting deer management. Catoctin Mountain Park has seen a 13-fold tree seedling density.
The proposed white-tailed deer management would be implemented within the following parks:
Maryland: Fort Washington Park, Fort Foote, Piscataway Park, Oxon Cove Park, Harmony Hall, Greenbelt Park, Baltimore-Washington Parkway and Suitland Parkway.
Washington, D.C.: Anacostia Park, Kenilworth Park and Aquatic Gardens, Fort Mahan, Fort Dupont, Fort Davis, Fort Chaplin, Fort Stanton, Fort Ricketts, Fort Greble, Battery Carroll and Shepherd Parkway.
NEXT STEPS
A recording of the June 15, 2021 meeting is available for viewing at the NPS Park Planning website

Using feedback and ideas from the previous public engagement period, the NPS has prepared an Environmental Assessment (EA) for National Capital Parks – East, which includes Anacostia Park, Greenbelt Park, Fort Washington Park and other parks.

All documents, announcements, and further information regarding Deer Management at National Capital Parks - East can be found at the National Capital Parks - East Deer Management Park Planning SIte here.
National Capital Parks - East Deer Management FAQ's
An overabundant white-tailed deer population is damaging the forests of National Capital Parks - East. To address this situation, the National Park Service (NPS) has developed a deer management plan that supports long-term protection, preservation, and restoration of native vegetation and cultural landscapes. 
 
When proposing a management action of this scope, the National Park Service must follow the National Environmental Policy Act of 1969 (NEPA). This law requires all federal agencies to: (1) prepare in-depth studies of the impacts of, and alternatives to, a proposed major federal action; (2) use the information developed from these studies to decide whether to proceed with the action; and (3) diligently attempt to involve the interested and affected public before any decision affecting the environment is made. 
Deer have flourished in National Capital Parks – East with low levels of disease, gentle winters, favorable habitats and vegetation in and around the parks, and no natural predators. As the area around National Capital Parks – East continues to be developed, the parks are increasingly important refuges for all native plants and animals. 
.  
Overabundant deer are severely compromising the forest habitat leaving vegetation and other wildlife vulnerable. Natural communities provide valuable habitats for birds, amphibians, small mammals, and carnivores as well as special and rare plant communities. Additionally, native plants provide important character-defining elements of the cultural landscapes of parks. 
The Superintendent of the National Capital Parks - East and the National Capital Area Regional Director will make the determination on adoption of deer management measures.
Public input has had a vital role in every step of this process. National Capital Parks – East held public meetings in spring, summer and fall of 2021 and solicited input for the scoping of the project and the draft Environmental Assessment. Upcoming announcements from the National Park Service will notify the public of any additional management actions and implementation of our deer management operations. 
Yes. However, there are currently no reproductive controls that are effective in an open population. The National Park Service would consider non-lethal management options should effective methods for an open population be developed in the future.  
Other non-lethal means have not been shown to be effective.  For instance, it is not feasible to fence deer out to protect forested areas as that shifts deer populations to other areas and doesn't provide long-term controls.  
NPS will continue to review literature and other deer management programs to identify non-lethal controls that may be effective and feasible in the future that could be implemented in additional to the proposed lethal management actions.
The deer density in the parks is well over 20 deer per square mile which research has shown to be the density where vegetation damage occurs. 
Deer populations can be affected by many things including weather, food supplies, migration, and disease.  However, without natural predators or culling efforts, deer populations have not decreased to sustainable levels. In 2019 there were: 
92 deer per square mile in Greenbelt Park 
99 deer per square mile in Piscataway Park 

67 deer per square mile in Fort Washington Park 
Deer populations in other years have been as high as 150 to 250 deer per square mile. 
Whenever possible, the NPS will donate all suitable meat from reduction activities to local food banks, consistent with NPS public health guidelines. 
Hunting is not allowed on a national park unless it was specifically authorized in the legislation that established the park or by any subsequent law. 
Near Piscataway Park, private landowners of the Moyoane Reserve community, culled 50 to 90 deer a year in the early 2000s to help decrease the deer density around the park. 
Extensive safety measures will be in place to protect park visitors and neighbors during operations.  Under the direction of park managers and in coordination with law enforcement park rangers, management implementation will be conducted by highly trained firearms experts experienced in conducting wildlife reduction operations.  
Volunteers may be able to assist with other planning activities but not with deer reductions.  Volunteer opportunities would be identified on a year-to-year basis dependent on where culling activities are planned. 
Yes – this management plan does not remove all deer from National Capital Parks – East. This plan is designed to bring the deer population to a level that allows the parks' forests to regenerate. White-tailed deer are part of the ecosystem, and future generations of park visitors will continue to have the opportunity to see deer. 
National Park Service management policies require us to protect natural resources within our parks.  Deer management promotes natural regeneration of forest vegetation and the restoration of cultural landscapes that have been detrimentally affected by deer over-browsing.  
Research has shown that vegetation damage occurs when deer populations exceed 20 per square mile. Long-term monitoring of park forests shows that high deer density is limiting the growth and maturation of the park's forest vegetation. This has been mirrored in extensive research conducted on the effects of overabundant deer populations. Young trees and shrubs grow to only a few inches tall before being eaten by deer and other herbivores. Restoration of the forests will take place when the browsing pressure is reduced to point at which forests can regenerate.  
The park will participate in a chronic wasting disease (CWD) sampling program as part of deer management activities. To date there is no evidence that CWD exists in the deer population residing inside the parks. 
Once the National Environmental Policy Act (NEPA) process is complete, deer management actions can be implemented. We anticipate completion of the NEPA process in April 2022 which would allow us to implement the deer management plan in the winter of 2022/2023.
Extensive safety measures will be in place to protect park visitors, neighbors, and staff during operations. Activities will be coordinated with local law enforcement and noise suppression will be used to minimize the sound of gunfire. 
We ensure safety by: 
Using highly trained firearms experts experienced in wildlife reduction 

Working at night when parks are closed 

Advising commuters, including cyclists, to plan alternate routes 

Working away from populated areas and with safety buffers of at least 300 feet from a park boundary 
Temporarily closing roads 

Stationing NPS personnel at closures, 

Enforcing nighttime trails closures 

Coordinating with other law enforcement agencies, such as working with U.S. Park Police 

Posting signs on closed trails/roads and bulletin boards 
Using highly trained firearms experts experienced in conducting wildlife reduction operations 

Using infrared heat scanners and night vision goggles to identify deer 

Using elevated positions to provide downward angled shots 

Always shooting toward the interior of the park 

Using special non-lead ammunition with a shorter travel distance 
Using noise suppression on weapons 
During deer management operations, Greenbelt Park camping areas will be closed and reservations will be suspended. NPS staff and law enforcement will enforce closures of all necessary areas during operations.
Yes. Several parks in the National Capital Area are implementing white-tailed deer management plans including:  
Antietam National Battlefield 
Catoctin Mountain Park 

Chesapeake & Ohio Canal National Historical Park 

Harpers Ferry National Historical Park 

Monocacy National Battlefield 

Rock Creek Park 
Catoctin Mountain Park has actively worked to reduce deer populations since 2010 and has seen a more than 11-fold increase in tree seedling density. 
National Park Service areas in other regions of the country are actively performing deer management including Fire Island National Seashore, Gettysburg National Military Park, Indiana Dunes National Lakeshore, Valley Forge National Historical Park, and Cuyahoga Valley National Park. 
The park will post press releases and announce management actions at: go.nps.gov/NACEdeermgmt 
For additional information, please contact National Capital Parks - East at e-mail us or by phone at 202-941-9108. 
Last updated: March 30, 2022