Preservation and Stabilization of the Best Stone Barn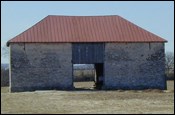 The stone barn at Best Farm is one of the battlefield's most distinctive historic structures. With its hipped roof, stone construction, and tall opposing front and rear bays, it is markedly different from the Pennsylvania-style forebay banked barns that are common to the region. The stone barn is believed to have originally been constructed as a three-bay threshing barn, and its unusual appearance likely reflects the French heritage of the Vincendière family, who are believed to have constructed it around 1798.
In 2006, in asssociation with the Historic Preservation Training Center and Bucks County Community College, the Monocacy National Battlefield Cultural Resource Division undertook a Historic Structure Assessment Report (HSAR) of the stone barn. This report assessed the overall structural integrity of the barn, and identified treatment alternatives for its long-term preservation and stabilization. As part of the HSAR process, a Level-I HABS drawing and photograph set was completed for the stone barn.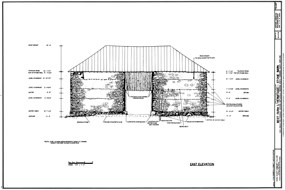 The HSAR determined that the barn's roof framing system was inadequate, and recommended that the existing roof be strengthened through the addition of supplemental framing. The HSAR also called for repointing and repairs to the barn's masonry, including foundation repairs and crack monitoring as well as the removal of a concrete apron that was poured while the farm was in private ownership. These treatment recommendations were completed in 2008 as part of a preservation and stabilization project.
Preservation and stabilization of the stone barn returned it to good condition so that it can be maintained under the battlefield's cyclic maintenance program. Completion of these projects ensure that this important historic structure is preserved for the enjoyment of future park visitors.
The Best Stone Barn preservation and stabilization project was performed by the National Park Service's Historic Preservation Training Center (HPTC). HPTC is headquartered at Monocacy National Battlefield in the historic Gambrill House.
Last updated: June 8, 2020