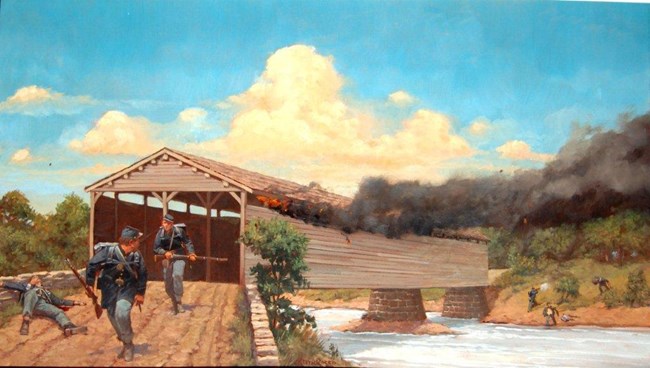 Alfred Nelson Sova was born in Victor, Ontario County, New York, on January 11, 1847, one of eleven children, to Elijah and Mary Sova. His parents, who were of French and Irish descent, had immigrated to New York from near Ottawa, Canada prior to 1833. The family lived in several rural communities near Rochester, New York, finally settling in the town of Walworth in Wayne County. Three of their sons, Joseph, James and Alfred, would go on to serve in the Union Army during the Civil War.
Alfred was just shy of his seventeen birthday when he enlisted in Company B, Ninth New York Heavy Artillery in Walworth on December 19, 1863. He was paid an enlistment bounty of $180. After mustering in at Auburn, New York, on December 29, 1863, Alfred was transported by boat down Seneca Lake to Elmira and then traveled by rail to join his regiment in the defenses of Washington, DC. Private Sova would spend the first few months of 1864 at Fort Mahan and Fort Foote. In early May, 1864, Lieut. General Ulysses S. Grant began the Overland Campaign against General Robert E. Lee's Army of Northern Virginia. After sustaining heavy losses during the first battles of the campaign, Grant ordered many of the regiments defending Washington, DC, including the 9
th
New York Heavies, to the front lines near Richmond, Virginia. They were assigned to the Third Division, Sixth Corps and on June 1
st
, fighting as infantry, they entered their first battle at Cold Harbor. Soon the two armies settled in for, what would become, a nine-month siege around Petersburg, Virginia. During operations, the Third Division of the Sixth Corps was abruptly ordered to prepare to move out for Baltimore, MD. On July 6
th
, they boarded steamships at City Point, Virginia and were transported north to Baltimore and then traveled by railcar to Monocacy Junction, south of Frederick, Maryland. On July 9
th
, under the command of Major General Lew Wallace, they faced a much larger Confederate force under Lieut. General Jubal A. Early. The 9
th
New York, commanded by Colonel William H. Seward, Jr., was positioned on the west bank of the Monocacy River near a wooden, covered bridge. During the Battle of Monocacy, Alfred, along with Private Samuel Mack and Sergeant Albert Smith, was ordered to gather sheaves of wheat from a nearby field to place in the roof structure of the wooden bridge in anticipation of firing it to render it useless to the advancing Confederates. Sometime, between 11:00 a.m. and 2:00 p.m., General Wallace ordered the bridge burned. Alfred sprang out of the line of battle, climbed up a beam of the bridge, and lit the wheat sheaves on fire. The bridge was engulfed in flames; soon a huge column of smoke billowed across the battlefield. The burning bridge timbers crashed, into the river below and the Confederates were without easy passage towards Washington, DC.