Confederate Major General Robert E. Rodes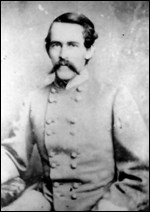 After graduating from the Virginia Military Institute (VMI) in 1848, Robert E. Rodes accepted a position at the same school as an assistant professor until 1851. He then pursued a profession as civil engineer. Just before the outbreak of the war, Rodes had accepted a professorship at VMI. When the war began, he entered the Confederate Army as a Colonel with the 5th Alabama Infantry regiment. His actions at the First Battle of Manassas led to him being promoted to Brigadier General on October 21, 1861.
Rodes was wounded at the Battle of Seven Pines (May 31-June 1, 1862) and at the Battle of Antietam (September 17, 1862). At the latter, his division held the center at "Bloody Lane." At the Battle of Chancellorsville (May 1-4, 1863), he again distinguished himself by leading Lieutenant General "Stonewall" Jackson's famous flank attack, an action which earned him promotion to Major General.
At the Battle of Monocacy, Rodes' Division fought at the Jug Bridge on the Baltimore Pike. Throughout the day, fighting was sustained with each side taking and giving ground. Late in the day, Rodes' forces attacked the Union line in an attempt to cut off the Union retreat. The Jug Bridge was taken along with a large number of prisoners, but Rodes was unable to capture the main body of troops that had already retreated down the Baltimore Pike.
While directing a counter attack at the Third Battle of Winchester (September 19, 1864) which enabled the beaten Confederate Army to retreat, Rodes was mortally wounded. He is buried in Lynchburg, Virginia.
Last updated: June 9, 2020