Confederate Major General John C. Breckinridge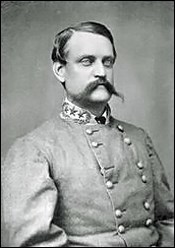 John C. Breckinridge was from Kentucky (a northern state) and graduated from Centre College, in Danville, Kentucky, in 1839. He continued his education at Transylvania University, in Lexington, Kentucky, and was admitted to the bar in 1840.
After serving two terms in the House of Representatives, Breckinridge became the youngest Vice President in the history of the United States under President James Buchanan in 1857, at the age of 36. In the 1860 presidential election he ran for president, but lost to Abraham Lincoln. As he had been elected to the U.S. Senate by the Kentucky legislature in 1859 before his term as Vice President expired, he stayed on in Washington, D.C. to serve as a Senator.
While fulfilling his obligations as a Senator, he came under suspicion as a Confederate sympathizer. In September 1861, an order was issued for his arrest even though he had not committed any treasonous act and was personally opposed to secession. To avoid being jailed, he fled to the South and on November 2, 1861 accepted a commission as a Brigadier General in the Confederate service. Less than a year later on April 14, 1862, following the Battle of Shiloh, Breckinridge was promoted to Major General.
On July 9, 1864, Breckinridge participated in the Battle of Monocacy. He was the second highest ranking officer in Lieutenant General Jubal Early's Army of the Valley District. During the battle, he directed the activities unfolding on the Worthington and Thomas farms, and late in the day, the Confederate forces under his direction were successful in dislodging the Union defenders from the field of battle.
In February 1865, Confederate President Jefferson Davis appointed Breckinridge Secretary of War. He served in that capacity until the war ended in April. After fleeing the country for fear of being put on trial for treason, Breckinridge returned to Lexington, Kentucky in 1869 where he resumed practicing law. He died in Lexington on May 17, 1875.
Last updated: December 8, 2021