Thomas Cox Bible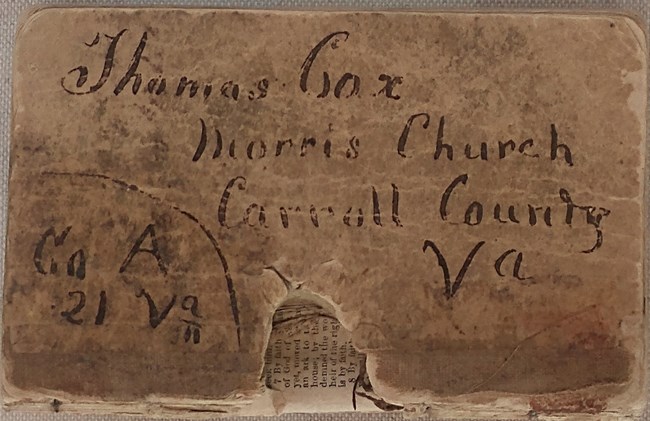 On July 9, 1864, at the Battle of Monocacy, Private Thomas Cox of Company A, 21st Virginia Infantry advanced across the rolling fields of the Thomas Farm as part of Brigadier General William Terry's Virginia Brigade. It was during the deadly back and forth combat across these fields that Thomas was struck. It was likely during the process of trying to determine the location and nature of his wound that Thomas's small pocket bible was discovered in his breast pocket. A bullet had stuck the bible and deflected, likely saving Thomas from being immediately killed.
Though alive, Thomas Cox was in critical condition and he was left behind here in Frederick when Lieutenat General Jubal Early's forces pressed on towards Washington, DC on July 10. The decision to leave Thomas was a sensible one, Early was trying to move as quickly as possible and Frederick still had a significant United States Medical Department presence in the city. Treated in Frederick, Thomas was transferred to the USA General Hospital in Baltimore, Maryland on July 25, 1864. There he was treated by not only Federal surgeons, but H. Smith Shepherd, a Confederate soldier who had been captured a year before at the Battle of Gettysburg and who was working as a hospital steward in Baltimore.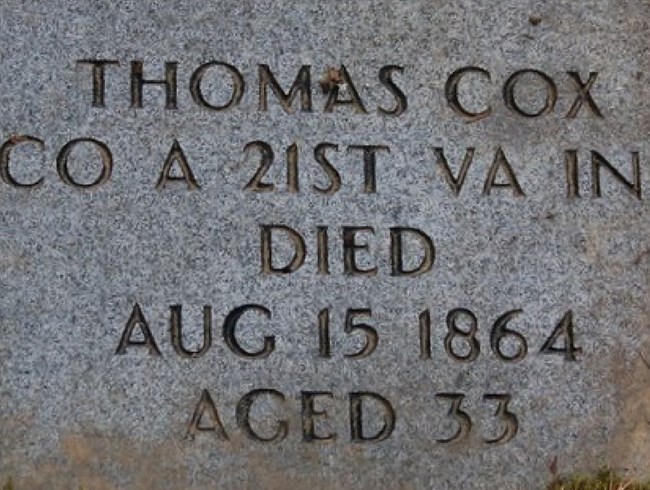 Shepherd had been detailed to the USA General Hospital, West's Building's, from Fort McHenry and it was there that he helped Thomas Cox make the notations in his bible that are still visible today. These notations are found in the margins of several pages, and all together state the following:
"The ball that struck this book entered my left breast + came out my right - it saved instant death + will be the means of saving my soul. Blessed are the dead who die in the lord."
Approximately five weeks after his wounding at the Battle of Monocacy, Thomas Cox died on August 15, 1864. He was buried on Confederate Hill, part of Loudon Park Cemetery in Baltimore, Maryland. His comrade and confident, H. Smith Shepherd remained a prisoner of war until March 16, 1865, when he was released after taking the Oath of Alligeance to the United States.
Last updated: October 18, 2021