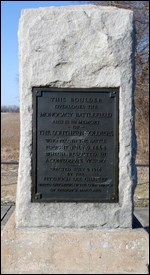 The United Daughters of the Confederacy dedicated this monument on July 9, 1914, the fiftieth anniversary of the Battle of Monocacy. It commemorates the Confederate soldiers who lost their lives during the battle and is the only monument at the battlefield dedicated to southern soldiers. Constructed of granite, the monument measures about 12 feet and features a bronze tablet containing the inscription:
This boulder overlooks the Monocacy Battlefield and is in memory of the Southern soldiers who fell in the battle fought July 9, 1864 which resulted in a Confederate victory.

Erected July 9, 1914 by the Fitzhugh Lee chapter United Daughters of the Confederacy of Frederick, Maryland
Restoration work completed in 2005 reestablished the post and chain fence surrounding the monument.