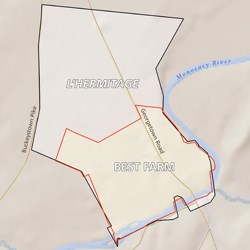 In 1800, Victoire Vincendière, landowner of the L'Hermitage plantation (encompassing the present-day Best Farm; see map at left), owned 90 enslaved African-Americans, making her one of the largest slaveholders in Frederick County. The Vincendières came to the United States from Saint-Domingue (present-day Haiti) in 1793 to escape civil unrest associated with the French Revolution and with the slave uprising that began in Saint-Domingue in 1791.
While census records and land deeds indicated a sizable enslaved population at L'Hermitage, little was known about their daily lives. More information came from a 1798 eye-witness description which noted that "instruments of torture" were visible at L'Hermitage, and that "two or three negroes crippled with torture have brought legal action […]." Subsequent research revealed that the Vincendières were charged with mistreatment of their enslaved laborers in at least 7 different instances, including: "excessively cruel and unmerciful" beatings, and denial of proper food and clothing. Members of the Vincendière household were found guilty in at least two of these incidents.
The 1798 account also helped researchers determine where the 90 enslaved individuals were housed. The account reads:
June 15. …Four miles from the town [of Frederick] we forded the [Monocacy] river. On its banks one can see a row of wooden houses and one stone house with the upper storeys painted white. This is the residence of a Frenchman called Payant [Jean Payen de Boisneuf, a relative of the Vincendières who resided at L'Hermitage] who left San Domingo with a substantial sum and with it bought a two or three thousand acres of land and a few hundred negroes whom he treats with the greatest tyranny.
The "row of wooden houses" was interpreted as a reference to the slave village, suggesting it was located in front (to the east) of the historic building cluster. Excavations in 2003 and 2010 located the archeological remains of six individual houses. An artist's concept of what the "row of wooden houses" may have looked like is depicted below.
Sales in the second decade of the 1800s decreased the enslaved population at L'Hermitage to 48 by the 1820 census. Historic records also indicate enslaved laborers ran away from L'Hermitage: newspaper advertisements from 1795 offer rewards for the return of Phil and Jerry, who ran away in November and December of that year. It is not known if either of them successfully escaped from L'Hermitage.