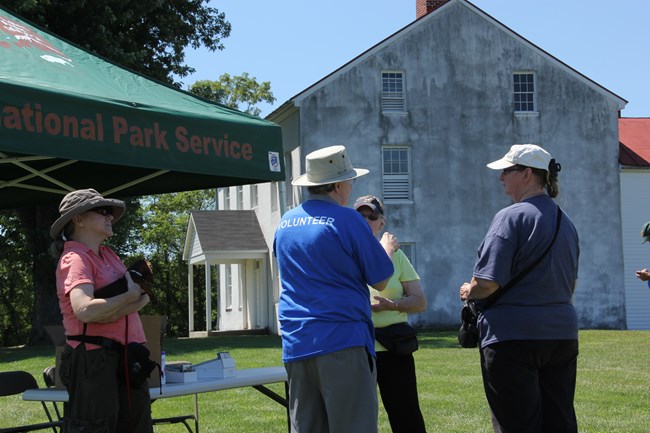 Monocacy National Battlefield is fortunate to have individuals willing to volunteer their time, on a long term basis, to assist with daily park operations and visitor services. Monocacy National Battlefield's goal is to match the park's needs with the volunteers' interests, skills, and passions to ensure a positive experience for all. Long Term Volunteers are the backbone of of our Volunteer Corps.
Long Term Volunteers typically find themselves working as Visitor Center Assistants, Curatorial Assistants, Guide and Front-line representatives, Historical Transcribers, Library Assistants, Administrative Assistants, Researchers, and Writer/Editor etc. If you are interested in becoming a Long Term Volunteer at Monocacy National Battlefield, follow the steps outlined below.
Consider what duties you might be interested in.
Visitor Center Assistant?

Research?

Guide or Front-line representative?

Special Event Assistant, etc.?
Consider what skills you possess that may be transferable to volunteering.
Computer skills?

Skills and knowledge of office equipment?

Public Speaking skills?

Knowledge of the local area?

Skills at working with as part of a team?
Consider what your ideal work schedule would be.
Are you interested in volunteering one day a week, one day every other week, or one day a month or more?

What hours would you be free between 9:00 a.m. and 5:00 p.m. on the days your interested in volunteering?
To learn more about becoming a Long Term Volunteer, please contact:
Tracy Evans
Volunteer Coordinator
4632 Araby Church Road
Frederick, MD 21704
Phone (301) 662-3515
Fax: (301) 668-7437
E-mail