Minnesota Valley National Wildlife Refuge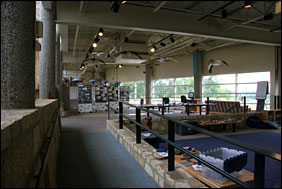 Overview
In the 1930s, a plan was proposed by Governor Floyd Olson to create a 42,000 acre park and recreational area between
Fort Snelling
and the city of Shakopee. However, World War II and a lack of funds prevented any action.
In the 1970s, pressure to develop the Minnesota River Valley floodplain for commercial and residential uses was increasing. But there were also interests that argued for the preservation of this unique environment as a haven for plants and animals. The Minnesota Valley National Wildlife Refuge Act was established in 1976 as a result of environmental activism.
The Act preserves the lower Minnesota River valley's natural resources. It is also responsible for developing recreational activities. Currently, the refuge includes 10,000 acres of land and there are plans to add another 5,000 acres.
The refuge's headquarters and Bloomington Visitor Center (directions) is located at the Long Meadow Lake refuge unit. It features an eight thousand square foot exhibit space. The Rapids Lake Education and Visitor Center is located on the Rapids Lake unit of the refuge.
Annually, the refuge areas receive approximately 140,000 visitors. Many volunteers contribute to support the various areas of refuge.
The Minnesota Valley refuge is a greenbelt of large marsh areas bordered by grain terminals, highways, residential areas, office buildings, and farm fields. Stretching along the Minnesota River from the Fort Snelling area to Jordan, the refuge includes eight different units that provide resting, nesting, and feeding for many animals, waterfowl, and other migratory birds. Rare and more common native plants also thrive within the refuge's boundaries.
Activities: Canoeing, boating, hiking, biking, snowmobiling, hunting, fishing, and dog-walking are all available, depending upon season. In winter, put your cross-country skis on and see parts of the Refuge that are inaccessible throughout most of the year, go snowshoeing and look for animal tracks--they're easy to see in the snow. Snowshoe rental free with ID at visitor center.
Hours: Please call for more information.
Contact Information: Call the Minnesota Valley National Wildlife Refuge at 952-854-5900 (V/TTY).
Related Activities: Birds & Wildlife, Family-Friendly, Fishing & Hunting, Winter Recreation, Natural History, Hiking & Walks, History & Culture, Museum, Scenic Drives, Tours, Visitor Center
Last updated: April 6, 2016