Lock and Dam No. 2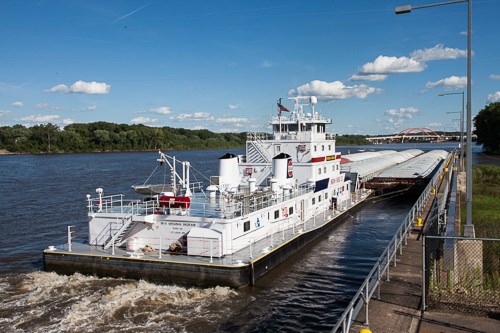 Introduction
Visitors to Lock and Dam 2 can visit the viewing platform and watch barge and pleasure craft lock through. Bald eagles and turkey vultures are often seen soaring along the bluffs during the summer and bald eagles will often fish around the dam, especially in winter.
History
The construction of Lock and Dam No. 2 began on October 16, 1928 and finished on November 30, 1930. Reconstruction of the lock took place in 1948 and then again from 1987-1995.

Lock and Dam 2 is one of the steps in the "stairway of water" on the Mississippi River that makes possible the travel of barges from St. Anthony to the Gulf of Mexico and maintains the congression mandate of a nine foot shipping channel.

Commercial barges carry over 11 million tons of commodities through the lock annually with the bulk of the cargo consisting of agricultural products, chemicals, and other raw materials. Along with the commercial barges are about 12, 000 recreational craft ranging from canoes and kayaks, houseboats, powerboats, and even paddleboarders. There are no fees for using the locks.
Activities
There is a public observation deck available for landbound visitors. Boating resources include the Metro Area Rivers Guide. The Army Corps of Engineers provides navigation charts which may be obtained online either through download or by purchasing a hard copy. The Minnesota Department of Natural Resources booklet, Boating on the Big River, provides lots of good information on staying safe, the process on locking through dams, and how to have fun on this national treasure.

The area offers very good bald eagle watching all year. Pelicans and other migratory waterfowl may be seen during migration. The nearby Douglas Point Park is often very good for eagle activity in winter and often hosts unusual sightings, such as long-tailed ducks.
Hours, Directions, and Contact Information
1350 Dam Rd. Hastings, MN 55033-1145
GPS: 44.757732, -92.867478
651-437-3150
Last updated: February 28, 2020