Lock and Dam No. 2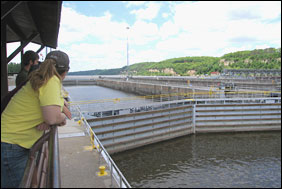 Overview
The construction of Lock and Dam No. 2 began on October 16, 1928 and finished on November 30, 1930. Reconstruction of Lock and Dam No. 2 took place in 1948 and then again from 1987-1995.
The first barge to make its way through the lock was pushed by the towboat S.S. Thorpe.
Lock and Dam No. 2 is one of the steps in the "stairway of water" on the Mississippi River that makes possible the travel of barges from St. Anthony to the Gulf of Mexico. Commercial barges carried over 10 million tons of commodities through the Lock. Among the commodities are: coal, burner oils, gasoline, grain, and aggregate products.
Lock and Dam No. 2 provides for both commercial and recreational uses. Along with the commercial barges are recreational crafts ranging from canoes, rafts, houseboats, and sleek powerboats.
Activities: There is a public observation deck available.
Hours: Please call for more information.
Location: The US Army Corps of Engineers office is located west of the Hwy 61 bridge at 1350 Lock and Dam Road in Hastings, MN.
Contact Information: Call the Lock and Dam No. 2 office at 651-427-3150.
Last updated: April 6, 2016