Learn How to Fish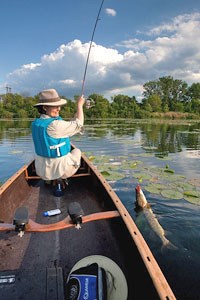 Introduction
Participants at our public events learn about fish and aquatic life, how to fish, and what fish are likely to be caught. Both adults and youth are welcome. These events are a great way to introduce youth to fishing and for adults who would like to regain their fishing skills. The Mississippi National River and Recreation Area provides all of the tackle, including rods/reels and bait.
Fishing Events and Workshops
Learn more about this program on our event calendar by searching "fishing". We offer both ice fishing and summer fishing programs.
Links of Interest
Take Me Fishing
This website does a good job of describing the various facets of fishing, from choosing tackle to fish conservation.
Casting a Spinning Reel
This video shows how to make long and accurate casts using a spinning reel.
Which Lure to Use?
Different artificial lures work best under different conditions. This video shows how different types of artificial lures are used.
Twin City Bait and Tackle Shops
The Minnesota Department of Natural Resources has some suggestions on their website for bait shops in the Twin City area. In addition, check out the phone book or look online for additional bait shops.
NOTE: Did you know it is illegal to release excess bait? Earthworms are not native to Minnesota and have a detrimental effect on our forests by stripping away the duff made up of dead leaves needed by our native wildflowers. Bait minnows sometimes contain small, non-native fish that can be detrimental to our rivers and lakes and the future of fishing. Please discard all excess live bait--such as earthworms and minnows--in the trash.
Fishing Licenses
Fishing licenses can be purchased at sporting goods stores, some gas stations, and at DNR locations. They may also be purchased online or by telephone. New for the 2013 fishing season is an annual $5 Youth fishing license for those ages 16 and 17.
Find a Place to Fish
Search for river access points (boat ramps, walk-ins, piers and platforms) in the Mississippi National River and Recreation Area.
Last updated: November 27, 2019