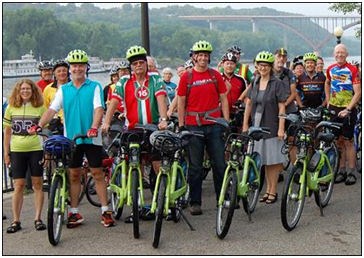 Use Bike Share to See Your National Park!
With over 100 miles of the Mississippi River Trail and other bike trails in and connecting to the park, one of the best ways to see the Mississippi National River and Recreation Area (NRRA) is by bike.
And did you know that you can use an affordable bike share system when you visit the Mississippi NRRA? For several years now, the National Park Service (NPS) has been working with Nice Ride Minnesota to purchase and install nearly 50 Nice Ride bike share stations (map) are in or nearby the Mississippi NRRA throughout Minneapolis and St. Paul.
Many of these stations are near the Twin Cities' wonderful transit system, MetroTransit. With frequent bus, light rail, and commuter rail service, visitors to the Mississippi NRRA can take transit to a Nice Ride station and see the park without the use of a car, thereby reducing congestion, pollution, and other impacts in the region.
To help visitors use this interconnected transportation system, the NPS developed the Mississippi River Trip Planner, an interactive website, which guides the process of using the park without needing a car. With a focus on nine alternative transportation gateways, this Google map-based website contains real-time information on all of MetroTransit's bus stops and rail stations, Nice Ride's bike share stations, bicycle paths, water access (for bike and paddle trips*) and park-related destinations in and along the park.
With all of these resources at your fingertips, we hope that you'll make an enjoyable, physically active, and car-free visit to the Mississippi NRRA today!