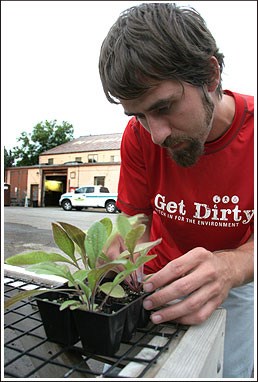 The Mississippi National River and Recreation Area's Seed Starter Program is a partnership involving community volunteers, park departments, and businesses in improving natural spaces that stretch along the Mississippi River by restoring native plant communities, such as tallgrass prairie.
The Park provides prairie plant seeds and growing instructions while the Seed Starters plant the seeds, nurture the seedlings, and record the plants' growth and success. Then, in celebration of National Public Lands Day on September 27, volunteers will transplant the seedlings into a prairie restoration at Saint Paul's Indian Mounds Park, overlooking the Mississippi River.
Participants include middle school students at New Spirit Middle School in Saint Paul, seniors from Covenant Village of Golden Valley, and employees of World Endeavors in Minneapolis, among others, donate their time and enthusiasm to the Seed Starters program. Funding for grow lights and materials was provided through a grant to the Mississippi River Fund by REI, Inc. Their Roseville store even grew plants in the entry of the store!
Gabriel Burns, NPS Ranger, believes that the fledgling Seed Starter program shows promise in fostering positive land stewardship by providing volunteers an opportunity to restore areas of native prairie that were once common throughout the northern Mississippi River corridor. The work that Seed Starters do now will improve our parks and public spaces, and consequently the quality of life for the present and future generations.
Drought-resistant prairie grasses and flowers can live for decades, require little maintenance once they become established, and provide bursts of colorful flowers and graceful grasses from spring to autumn, the latter providing color and texture well into winter. The native habitats created by these plantings also provide sanctuaries for wildlife, such as butterflies and birds.
Groups and individuals interested in participating in Seed Starters, or wanting more information may contact us at 651-290-4160.
---