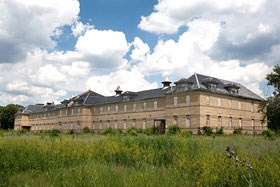 An open house was held on Sunday, June 14 from noon-4 p.m. at the former "Country Club of the Military," the Upper Post at Fort Snelling. Once the site of the military's premier post, the site now features buildings in varying states of deterioration.
What is the future of the Upper Post? What is the story behind the buildings?
Participants enjoyed rare access inside the fence surrounding the buildings via tours led by staff from the National Park Service, Department of Natural Resources and Minnesota Historical Society. They learned about the stories of real people who worked and lived within the Upper Post through conflicts ranging from the 1880s through World War II.
The open house not only focused on the past, but the future of the site, especially as money becomes available for building stabilization.
Recent renovations to the buildings demonstrate how the buildings could be developed for a future use. The open house gave visitors the opportunity to talk to those working to save the Upper Post and find out how they can help.
The Upper Post open house was sponsored by the Mississippi National River and Recreation Area in partnership with Fort Snelling State Park, the Minnesota Historical Society, Hennepin County, the National Trust for Historic Preservation, and the Mississippi River Fund.