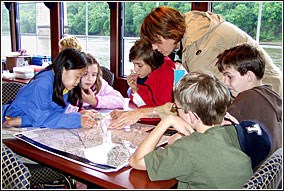 Introduction to Journey to the Falls
Did you know a riverboat could be a classroom? On Journey to the Falls, a program coordinated by the Mississippi National River and Recreation Area, a Mississippi rverboat is transformed into a floating classroom for 4th-6th grade students.
The rich history of the Mississippi River at St. Anthony Falls near downtown Minneapolis comes alive for the students. Students literally uncover the history of the St. Anthony Falls area in an archaeological dig, decipher clues to the past in turn of the century maps, and share the discoveries of early explorers through their journals. Students record their own observations in journals reinforcing reading and writing skills.
Students learn that St. Anthony Falls, the Mississippi's only falls, attracted power-dependent industries, such as lumber and flour milling in the mid to late 1800s. Describing their trip students said: "We learned about a 'boom!' I thought that meant there was an explosion, but a boom keeps lumber from getting mixed up." Another student learned that "In 1899 they used the river for lumber. Minneapolis used to be the #1 lumber milling city."
Students also learn there were explosions at St. Anthony Falls, "We learned about a mill that blew up because of flour dust in the air. I really liked being an archaeologist too."
Innovative field trips, like Journey to the Falls, provide students and teachers with unique opportunities for experiential learning and connect students to their landscape and history.
Partner organizations work alongside the National Park Service in leading student lessons, providing teacher training, and with financial support. These include the Minnesota Historical Society (MHS)- Mill City Museum, Mississippi River Fund, Minneapolis Park and Recreation Board, Minneapolis Queen Riverboat, Minnesota Center for Book Arts, and the Army Corps of Engineers.
---
Contacts and Resources
Lyndon Torstenson (NPS Ranger and Manager of Educational Partnerships) 651-290-3030 ext. 232.