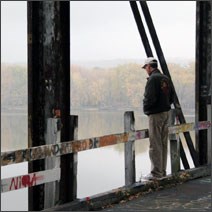 The eastern section of the old Rock Island Bridge between St. Paul Park and Inver Grove Heights collapsed on November 21, and was closed to the public on Monday. The eastern section is not the portion of the bridge proposed as a trailhead over the Mississippi River.
The double-decker structure, which was built in 1895, has been closed to trains since 1980 and vehicle traffic since 1999. Before the collapse, the eastern approach in St. Paul Park had been blocked off because of security precautions. The eastern section of the bridge is scheduled for demolition, as is the swing span in the river.
On the west side of the bridge the approach could be demolished or repaired and used as a trailhead to get visitors out to experience the river in an otherwise inaccessible area. Later last month the National Park Service provided a public tour where nearly a thousand people visited the west approach of the bridge. Many expressed support for repairing and reusing the structure.