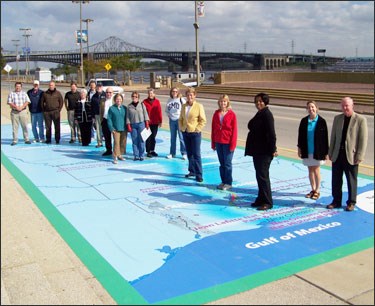 America's most famous river has inspired almost a dozen parks and partners to gather and discuss the possibilities to collaborate. On October 14-16, park superintendents in the Midwest and Southeast regions gathered in the shadow of the Jefferson National Expansion Memorial to explore how the Mississippi River connects their places and stories. One of the bigger ideas to emerge is a renewed commitment by the National Park Service to adopt and promote completion of the Mississippi River Trail, which connects the headwaters in northern Minnesota to the Gulf of Mexico at the mouth of the Mississippi in Louisiana.
Building on the success of ParkPalooza, which debuted at the ARCH in September, this partnership builds on the vision of a connected Mississippi River as an outcome of the NPS Centennial Initiative. Park superintendents each spent a few minutes talking about their sites, demonstrating that the individual and collective stories along and about the river are quite a piece of American culture. The meeting was organized and facilitated by the NPS Rivers & Trails Program from both the Midwest and Southeast regions, with field offices located in Minnesota at MISS, Missouri at JEFF, Louisiana at JELA, and Mississippi at GUIS. National and regional participating partners included Mississippi River Trail, Inc., Audubon, The Nature Conservancy, US Army Corps of Engineers, Great Rivers Greenway District, Metro East Parks and Recreation District, Confluence Greenway, Metro and Jefferson National Parks Association.
Going forward, this partnership will pursue several facets of the Centennial Initiative: completion of the Mississippi River Trail, continued work with RTCA, growing the relationships with partners, and working together as a coalition of Mississippi River parks, exchanging programs and people.