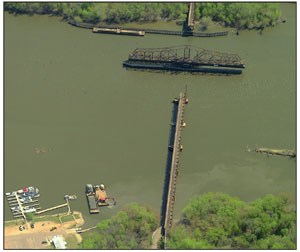 Built in 1894, the Rock Island Swing Bridge, more recently known as the JAR toll bridge, was the longest swing span bridge in the world at that time and is possibly the only remaining swing bridge in the US that was uniquely constructed to carry trains on an upper level deck and passenger traffic on the lower level deck.
Closed to all use since 1999, Dakota and Washington County officials have been studying the complete removal of the bridge as well as adaptive reuse options. Reuse of 600 feet of the western approach spans could include pedestrian walkways, overlooks, interpretative displays, fishing access, and a trailhead for the Mississippi River Regional Trail. The bridge is adjacent to the site of Inver Grove Heights' future Heritage Park. Dakota County recently outlined the history (John Dillinger used the bridge to elude the police in the 1930's), reuse options, costs and ownership scenarios for the bridge.
For more information about the Rock Island Swing Bridge contact Dakota County Parks Director, Steve Sullivan, at 952-891-7088.
The bridge is near the River Heights Marina on 66th Street E, off of Concord Boulevard.