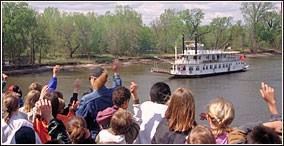 Introduction to Big River Journey
Welcome aboard! Each school year over 4,000 third through fifth grade students join Mississippi National River and Recreation Rangers and partner staff aboard a Mississippi River paddleboat to explore and learn about the Mississippi River.
While on their Big River Journey, students use microscopes to peer into the tiny world of aquatic invertebrates; study river geology using samples of sandstone, limestone and shale; check out river birds using binoculars; investigate the sources of river litter; and visit a riverboat captain in the pilothouse of the boat. Each of these hands-on stations allows students to connect with the river through science and real-world observations.
Since its beginning in 1996, the award winning Big River Journey program has connected over 65,000 students to the science and heritage of the Mississippi River and its watershed. Big River Journey includes 12 partner organizations which lead lessons during the trip, provide teacher training at workshops, or contribute other resources.
In 2001 Big River Journey received the National Park Foundation's educational partnership award. In 2007 Big River Journey won the Minnesota Environmental Initiative top award for environmental partnership.
Students come to Big River Journey from many different backgrounds and with many different interests. All of the partners of Big River Journey represent the significance of the Mississippi River - and spark children's interest through boats, birds, bugs, science, art, music, history and culture. With a bit of nurturing, that seed of interest grows into a lifelong relationship and results in everyday river stewardship by everyday people.
Partners include Friends of the Mississippi River, Hamline University, Center for Global Environmental Education, Minnesota Department of Natural Resources (Adopt-a-River, Fort Snelling State Park, Project WET), Minnesota Historical Society, Historic Fort Snelling, Minneapolis Public Schools, Mississippi Park Connection, Padelford Packet Boat Co., Inc., Science Museum of Minnesota, and St. Paul Public Schools.