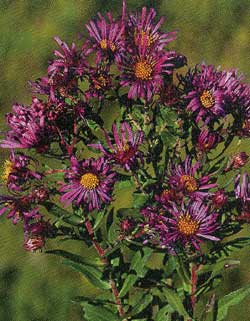 Previous | Prairie Home | Next
There are many plants of the Aster genus that grow in prairies. Asters come in a variety of colors (usually magenta or whitish) and sizes. Asters such as Aster novae-angliae, Aster ericoides, and Aster sericeus are all excellent choices for prairie plantings in this area. Since they tend to bloom in late summer through fall, they are great sources for nectaring insects during the late season.
Asters are found in a variety of conditions and are variably aggressive and competitive, so get the specifics from your seed supplier before you plant.
Asters can be found in grasslands, near forest edges, and in old fields.