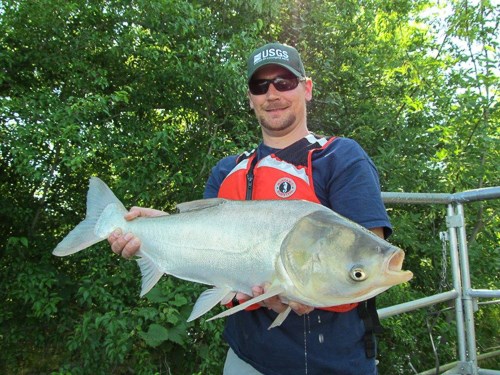 Introduction
A very active, schooling species, silver carp are well known for their habit of leaping out of the water when disturbed by sudden sounds, such as motorboat motors. They can leap as high as ten feet out of the water, and have been known to injure boaters and damage equipment while jumping.
Like bighead carp, silver carp eat by filtering plankton from the water, and fish were imported to control algae growth in ponds. Their feeding efficiency and rapid reproduction puts native fish species that depend on plankton at risk.
Watch the spread of this invasive species on this interactive map produced by the U.S. Geological Survey.
Fascinating Facts
Currently, large populations of this species are already established in waters connected to the Great Lakes Basin including the Illinois River and the Chicago Area Waterway System.
Silver carp can live in slightly brackish (salty) water.
Like bighead carp, silver carp lack a true stomach which requires them to feed almost continuously.
Identification
Key ID Features: Silver carp share a characteristic low eye placement and large mouth with bighead carp. However, silver carp's head is smaller and it lacks the irregular splotches of the bighead. It is also typically smaller at 59 pounds and 39 inches in length.
Present in Park: Individual specimens found, but not evidence of an established population.
Habitat: Large warm rivers and connected lakes.
MN Status: This fish is on the Minnesota Department of Natural Resources prohibited invasive species list, which means import, possession, transport, and introduction into the wild is prohibited. Silver carp are also federally listed as injurious species, which means bringing these fish into the United States or transporting them across state lines is illegal.
For Further Information
USGS Silver Carp Fact Sheet
Minnesota Department of Natural Resources Asian Carp page