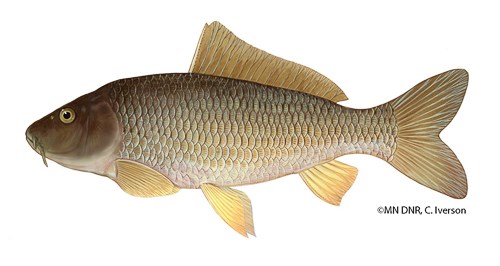 Introduction
When introduced in new surroundings, common carp tend to settle in and thrive. First imported to the United States in the late 1800s, it is now established in rivers and lakes in every state except Alaska. Our experience with this long-term resident may help us anticipate the challenges and potential outcomes of Asian carp arrivals (bighead carp, silver carp, grass carp, black carp) to the Mississippi National River and Recreation Area.
Common carp will eat nearly anything, from vegetation and detritus to aquatic insect larvae and crawfish. They are very active feeders, disturbing sediments and uprooting plants, as they forage. This feeding style often incurs the wrath of anglers and fisheries managers, as high carp populations can cause a deterioration of water quality and habitat for native fish species under certain conditions, especially in smaller water bodies that have silty bottoms. Carp reproduce readily and tolerate polluted waters and low oxygen levels better than many native fish.
Common carp tend to be very aware of their surroundings and easily spooked. As a result, they often are found in places where water is cloudy or contains overhead cover. It has keen senses and its swim bladder works as a resonating chamber to amplify sound waves that reach the body through the water making them somewhat challenging to catch. European anglers have a long history of eagerly seeking out these fish using elaborate fishing strategies and finely tuned techniques.
Fascinating Facts
German and Scandinavian immigrants brought their taste for carp when they came to North America, prompting a surge in U.S. carp cultivation.
The first records of common carp caught in the Mississippi River were at Hannibal, Missouri, and Quincy, Illinois in 1883.
Common carp are a type of minnow, closely related to fathead minnows, a common baitfish.
The prized koi raised in garden ponds are colorful varieties of common carp. (The goldfish kept as aquarium pets are a different species, Carassius auratus.)
Identification
Key ID Features: Common carp average 2-3 pounds in weight but 15-20 pounders are not uncommon and some will get much larger. It is brassy to olive green and has large scales, a long dorsal fin base (which differentiates the common carp from the Asian carps, and two pairs of long barbels (whiskers) in its upper jaw at the corners of the mouth. Those barbels distinguish it from other large-lipped fish such as the native bigmouth buffalo.
Present in Park: Yes
Habitat: Large warm rivers and connected lakes.
MN Status: Regulated invasive species. The Minnesota Department of Natural Resources prohibits their introduction into the wild. For many years it was illegal to return these fish to the water, along with other "rough" fish. The no-return law was repealed as it did little to prevent the spread of this species and caught fish often ended up on shorelines and at boat landings only to rot. Common carp caught while angling may be returned alive to the same water body from which it was caught.
For Further Reading
Dickson, Tom. 2008. The Great Minnesota Fish Book. Minneapolis, MN: University of Minnesota Press.
Minnesota Department of Natural Resources. 2017. Common carp, (also known as German carp, European carp) fact sheet.
Related NPS pages about Carp:
Common Carp in the Upper Mississippi
History of Common Carp in North America