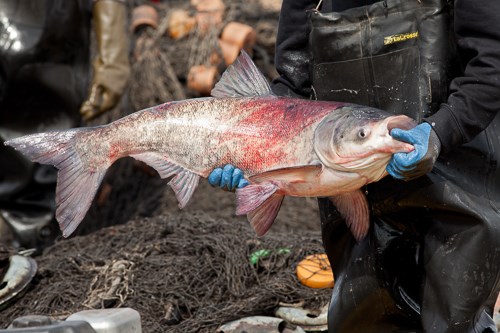 Introduction
Bighead carp are voracious feeders, eating plankton and sometimes decaying leaves. Its food preference puts it in competition with many native species that also feed on plankton, such as mussels, larval fish, and several adult fish species, such as paddlefish.
This same appetite initially attracted fish farmers to import bighead carp in the 1970s as a water quality control measure in aquaculture ponds, but flooding breached some of the ponds in which these fish were living releasing them into the Mississippi River.
Track the rapid spread of this invasive species through this interactive map created by the U.S. Geological Survey.
Fascinating Facts
Since their introduction, most states in the Mississippi River Basin and several states outside the basin, have reported bighead carp in their waters.
Bighead carp, lacking a true stomach, requires them to feed almost continuously.
Identification
Key ID Features: Bighead carp have a very large head, a slightly protruding lower jaw and eyes located very far forward and below the midline of its body. It is dark gray above and cream-colored below with irregular, dark gray to black blotches on the back and sides. It reaches 59 inches in length and can weigh up to 111 pounds.
Present in Park: Individual specimens found, but there is no evidence of an established population. A single bighead was caught in 2014 in the Mississippi River near Cottage Grove. Several, including the fish shown on this page was caught in the lower St. Croix and at the confluence with the Mississippi River.
Habitat: Large warm rivers and connected lakes.
MN Status: Bighead carp are on the Minnesota Department of Natural Resources prohibited invasive species list, which means import, possession, transport, and introduction into the wild is prohibited. Bighead carp are also federally listed as injurious species, which means bringing these fish into the United States or transporting them across state lines is illegal.
For Further Information
USGS Bighead Carp Fact Sheet
Minnesota Department of Natural Resources Asian Carp Page