Laws & Policies
Superintendent's Compendium
The National Park Service has revised rules affecting the use of nine Mississippi River islands and the Coldwater Unit it owns within the 72-mile Mississippi National River and Recreation Area. These federal rules do not affect activity on private property, on city, county or state park land, or on federal land managed by other agencies. The revised regulations are known as the Superintendent's Compendium.
Firearms Possession
As of February 22, 2010, a new federal law allows people who can legally possess firearms under applicable federal, state, and local laws, to legally possess firearms in this park. It is the responsibility of visitors to understand and comply with all applicable state, local, and federal firearms laws before entering this park. As a starting point, please visit the Minnesota Office of the Revisor of Statutes website. Federal law also prohibits firearms in certain facilities in this park; those places are marked with signs at all public entrances.
Drone Use
The Mississippi National River and Recreation Area only has jurisdiction over drone use on the land we own in fee title. While our boundary encompasses 54,000 acres, we only own about 64. Roughly 35 acres lie on 9 islands - some of which are no longer islands or only islands seasonally - and the Coldwater Spring unit covers 29 acres. Coldwater Spring is part of the larger Fort Snelling area and lies between Minnehaha Park and Historic Fort Snelling and riverward of Highway 55. If you are not launching or landing on our fee title land, the park does not have jurisdiction or authority over drone use and we cannot give permission for land we do not own. General locations are located in the image below. See Appendix A of the Superintendent's Compendium above for more specific maps with boundary locations of lands owned by Mississippi National River and Recreation Area. Email us at MISS_Info@nps.gov for further information.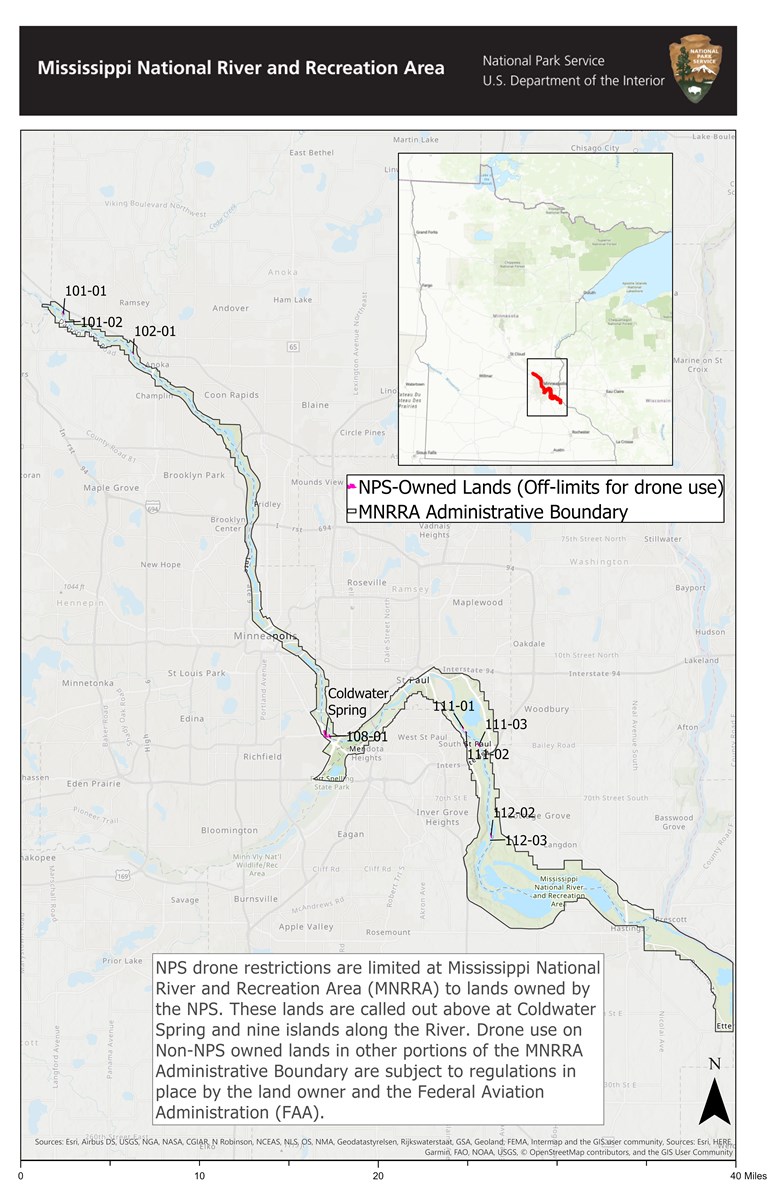 Last updated: July 1, 2021