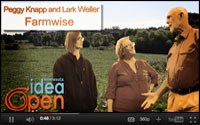 The Freshwater Society and the National Park Service partnered to propose a project which won the 2011
MN Idea Open
, a unique, public grant-making competition, which this year was focused on solving water issues in Minnesota.
Project Goals
Minnesota FarmWise seeks to expand farmer-to-farmer education about water-friendly farming practices. Minnesota FarmWise will identify and recruit experienced farmers who have implemented water-friendly farming techniques in their fields, and who have seen economic and environmental success with these practices. These "mentors" will be paired with farmers in high-priority, ecologically vulnerable locations that impact the Mississippi and Minnesota Rivers. The mentor and participating farmers will work together to identify water-friendly techniques that will work on the participants' lands, and the program will provide committed farmers with researchers who can evaluate the impact of their changes.
The year-long project, which we are thinking of as a pilot phase, was awarded in September 2011.