Alternative Transportation Plan
Mississippi National River and Recreation Area Receives over $1 million for Pilot Alternative Transportation Project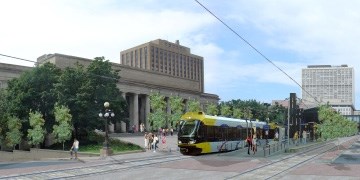 The Mississippi National River and Recreation Area (MISS) has received over $1.8 million dollars fromthe Federal Transit Administration and NPS Category III funds to implement a partnership, multi-modal, alternative transportation system (ATS) that builds on existing public transit, Nice Ride MN's bike share program, and existing river access. It will enable park visitors and area residents to travel throughout the park without a car.
The ATS includes over forty Nice Ride MN bike share stations, fifty ADA bus pads and sidewalk connections; new signage and marketing efforts for the evolving ATS system, and pedestrian connections to a 72-mile segment of the Mississippi River Trail (MRT). The MRT begins
at the Mississippi's headwaters in northern Minnesota and passes through 14 national parks and wildlife
refuges, including MISS, on its way to the Gulf of Mexico. An interactive mapping tool is available
to help you plan a multi-modal trip to and along the river.
The project also matches well with the Minneapolis "Non-motorized Transportation Pilot Program," administered by Bike/Walk Twin Cities. In 2006, Minneapolis was one of four localities awarded federal funds to complete a seamless non-motorized network that connects trails, bicycle lanes, sidewalks, and mass transit in the area. The MISS Alternative Transportation System will complement these efforts and
increase bike-ability and non-motorized connections to the river. It's a win-win partnership opportunity.
Funding for the Alternative Transportation System Plan is provided by NPS Transportation Management Program. The Transportation Scholars Program is an initiative of the National Park Foundation in partnership with the National Park Service and the Eno Transportation Foundation.
For more information:
Last updated: February 16, 2019