Alternative Transportation Plan: New Bike Share Will Reduce Congestion and Pollution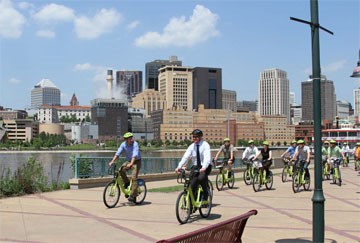 On June 4th, 2012, the Mississippi National River and Recreation Area (MISS) celebrated the installation of the first 30 NPS-sponsored bike share stations in downtown Saint Paul along the Mississippi River. Rangers led a celebratory bike ride from downtown Saint Paul across the river to Harriet Island Regional Park. Partners joining the National Park Service included Nice Ride MN (the bike share provider), City of Saint Paul and Mayor Chris Coleman, Blue Cross Blue Shield of Minnesota (BCBS) and CEO Ken Burdick, the Minnesota Department of Transportation (MnDOT), and over 80 members of the general public to announce the first-of-its-kind bike share program in a national park.

Based on the use of bike share stations elsewhere in the Twin Cities, the 30 bike share stations are estimated to generate 171,915 bike trips per year. 110 of the 130 stations in the Nice Ride System will serve the park. Use of these bike share stations will reduce air and noise pollution from vehicles and congestion, reduce greenhouse gas emissions that contribute to climate change, minimize run-off and water quality impacts due to motor vehicles, and reduce the addition of impervious surfaces that contribute to erosion and runoff. Annual motorized vehicle trips will be reduced by an estimated 34,383 vehicles and parking demand along the river will decrease accordingly.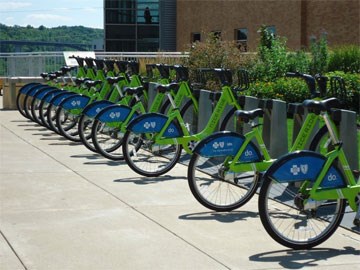 The stations will serve as a gateway to active transportation, resulting in more people being comfortable using their personal bikes in addition to the 171,915 estimated bike share rides. Overall, the stations will significantly relieve traffic congestion in the park, improve the park's current environmental condition, and improve the visitor experience by making the park and river accessible without a car.
A survey conducted by Nice Ride MN, the park's bike share provider, identified approximately 20 percent of daily bike share users use a bicycle instead of driving a car. The 30 new stations will, therefore, avert approximately 34,383 car trips in the park/year. This mode change equates to averting 1,346 vehicle miles traveled per day which translates to a reduction of hydrocarbons by 4.03 lbs/day, carbon monoxideCO by 36.78 lbs/day, and carbon dioxideC02 by 1,095 lbs/day (along with reductions in PM 10, PM2.5, and NOX). Metro Transit estimates for every transit trip taken there is a 3.5 lb. reduction in carbon emissions. If only one percent more visitors take transit to connect to the bike share stations, there will be a reduction of 1,029,000 lbs. in carbon dioxide emissions per year. With additional signage, marketing, and transit improvements, it is hoped the project (described below) would increase transit visits to the park by 10 percent.
The bike share system is part of a larger park-wide, alternative transportation effort to create a seamless, recognizable, multi-modal Alternative Transportation System (ATS) along the Mississippi River in the Twin Cities metro area. This system builds on existing alternative transportation facilities, including the bike share stations, to increase access to park destinations without the use of a car. In 2010, MISS identified over 300 non-motorized connections to the river but did not have an integrated system for these connections, visitor access, and transportation to connect to. This absence of a recognizable transportation system for the park created visitor confusion and challenges with the park's identity, visitation, and general park navigation. In 2011, MISS received funding through the Paul S. Sarbanes Transit in parks program to develop an ATS (and five year plan) unique to this multi-jurisdictional national park and, perhaps, the entire national park system. The project includes the installation of the bike share stations aligned with area transit and river access, 50 ADA bus pads and sidewalk connections, pedestrian connections between the bus pads and the Mississippi River Trail (which is designated a national millennium trail), and new signage and marketing efforts to create awareness for of the park's unique alternative transportation system.
Park staff is currently working with its partners and the U.S. Department of Transportation's Volpe National Transportation System Center to define the system, which includes boat and water access to the new Mississippi River National Water Trail, and to identify system gaps. A draft system map is available below; additional bike share stations, signage, and transit improvements will be installed over the next few years; and a complete system in place by 2016, in time for the National Park Service's Centennial Celebration.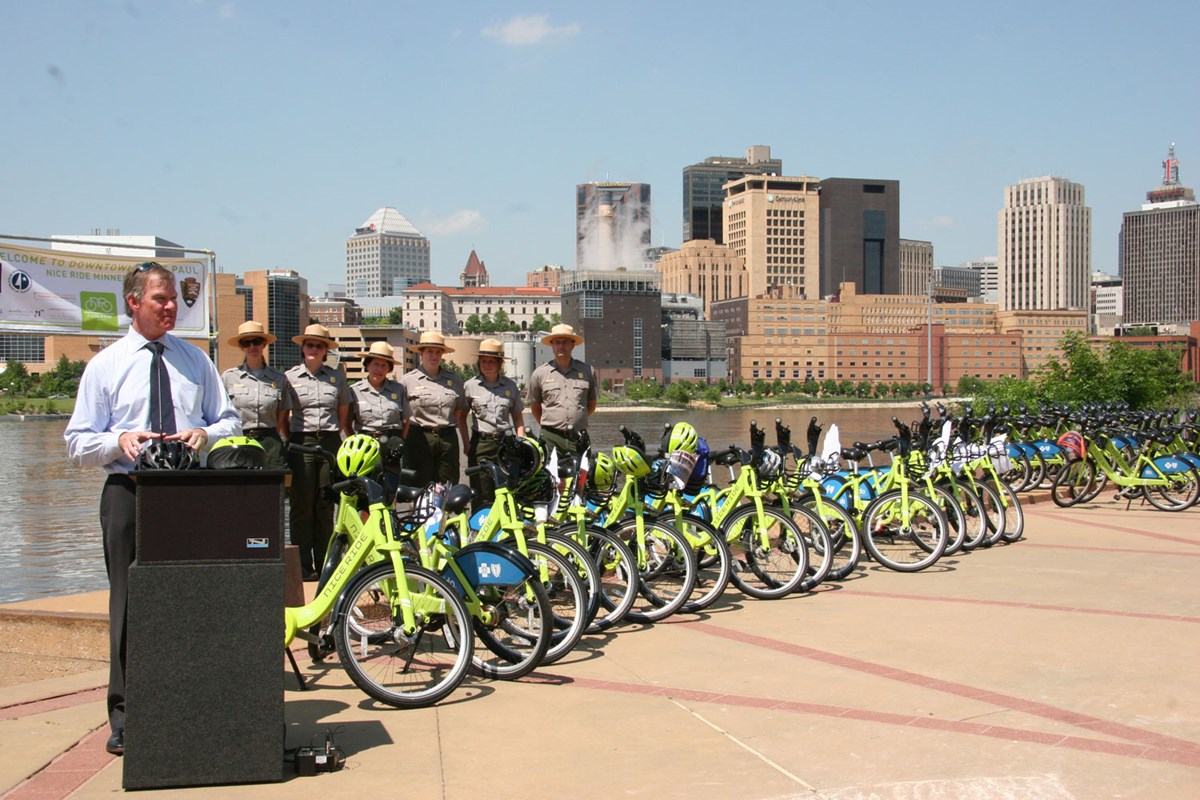 Last updated: April 22, 2019