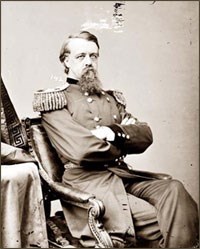 The first commander of the Department of Dakota was a military leader of Civil War fame: General Alfred Howe Terry. His victory against Confederate forces at Fort Fisher, near the end of the war, made him popular among many generals, including Ulysses S. Grant, William T. Sherman, Phillip H. Sheridan, and John M. Schofield. All these men would serve as General of the Army and--with the exception of Grant--as the commander of the Division of Missouri. Terry would become the longest standing commander of any single department, serving at the Department of Dakota for almost 20 years.
Terry's command began in 1866, and only two years later, he played a major role in forging the Fort Laramie Treaty. This treaty created a relative, though short lived, peace with many of the plains tribes. Terry oversaw many of the expeditions into the contested areas of the Dakotas and Montana, taking part in numerous battles fought during the Plains Indian Wars, including the Battle of the Rosebud, the Battle of Little Bighorn and the Battle of Slim Buttes.
Terry's commission as commander of the Department of Dakota ended in 1886, when he was promoted to the commander of the Division of Missouri. Before his departure, Terry helped set in motion the expansion of Fort Snelling and the establishment of what is now known as the Upper Post.