Upper Post: 1920 - 1929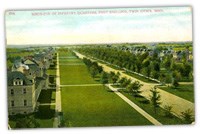 The End of World War I
Many lessons learned from World War I carried over into the 1920's and were reflected in the National Defense Act of 1920, which outlined the U.S. Army's new organization. The new plan called for a smaller peacetime standing army and a larger National Guard and Organized Reserve capable of rapid mobilization. Under the new plan, the Army emphasized training civilian units. Regular Army officers instructed the civilians, planning maneuvers with the National Guard and organizing programs for the Reserve Officer Training Corps and the Civilian Military Training Camps. A testament to the relevance of Fort Snelling to these new programs, the largest Civilian Military Training Camp in U.S. history was held there in 1926. Along with these changes in organization, improvements in pay and living conditions made positions in the Army more desirable, as did a new focus on education and athletics. A model of these changes, Fort Snelling quickly became known to many as the country club of the Army and to some as the University of Fort Snelling.
The University of Fort Snelling
Three courses were taught at Fort Snelling during the 1920's, all of them rigorous tests of combat strategy, critical thinking and military etiquette. The first course educated trainees in the rules of land warfare, military courtesy and customs, followed by first aid, training methods and the use of federal troops in civilian disturbances. In the second course, officers covered drill and command, weapons and equipment, transportation, horseback riding and tactics. The final course focused on conducting similar training camps, understanding methods, schedules, command duties, company communications, scouting and observation. The ultimate goal and purpose of educating these civilian officers was to prepare the unit to train new recruits in case the country had to mobilize for war.
The Country Club of the Army
Sports had become an essential part of training, a way to keep troops focused on healthy and wholesome activities, and a way to boost morale and comradery. Emphasis on sports began with the Spanish American War and was institutionalized in 1914 by Major General Leonard Wood, the Army Chief of Staff. Fort Snelling exemplified the role of sports in the military's training agenda. The Fort develop facilities for baseball, polo, hockey, tennis, swimming, basketball, track, volleyball, fox hunting, horse skills, skiing, snow-shoeing, curling, skating, football and more. The presence of a golf course, polo grounds, baseball stadium and other athletic facilities earned Fort Snelling the reputation as the country club of the Army. Adding to the country club image, soldiers routinely performed for the public events at the Fort and marched in local parades. They held parades, concerts, athletic events and horse shows at the Fort. Whiskey the horse became a popular favorite, as he performed for audiences for almost 20 years. Another local favorite was the 3rd Infantry's annual event that featured tank circuses, dirigible landings, mortar and machine gun drills, and mock WWI battles.
Last updated: November 22, 2019