Upper Post: 1899 - 1918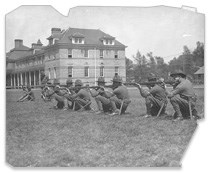 Before the War to End All Wars
At the turn of the 20th century, the U.S. Army was quickly growing to accommodate the nation's new imperial role, and Army forts such as Fort Snelling grew. By 1901 the Fort had acquired regimental status, housing multiple companies of artillery, cavalry, and infantry. Over the next decade, dozens of new buildings were constructed at the Fort, funded by the largest peace-time budget in the Army's history. However, conflicts on the Mexican border and demand for troops in the Philippines emptied many of the Fort's new facilities. By 1912 the Secretary of War slated Fort Snelling for decommissioning, in an effort to consolidate forts around the country. Paired with support from Congress, the outbreak of the First World War reversed the Secretary of War's decision and redefined Fort Snelling's utility to the U.S. Army.
World War I at Fort Snelling
When the U.S. entered World War I, the Army was short of officers. Consequently, the Army established officer training camps around the country, including one at Fort Snelling. Of the 6,000 civilian applicants from around the Midwest for Fort Snelling's first officer's camp, only 1,891 were accepted. The camp was three months long and consisted of general military training and training specific to different branches of the service. All trainees practiced skirmish and trench warfare, which culminated in a two day mock battle that transformed Fort Snelling's landscape into a trench-covered battlefield. Thousands of spectators made the trip to the Fort to observe the exhibition. From the two camps held at Fort Snelling in 1917, there were 2,552 graduates.
Last updated: November 22, 2019