Upper Post: 1898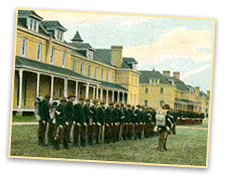 The Spanish-American War
Though it was the shortest war in American history, the Spanish American War announced America's expansion onto the world stage. For the first time American troops fought abroad (in Cuba and the Philippines). Not only would this have political ramifications for U.S. diplomacy and foreign policy, it also affected the U.S. Army. Now, the Army needed foreign bases and had to develop new practices and strategies. The war also pointed out how unprepared the U.S. Army was to carry out a major foreign campaign.
Fort Snelling's Connection
Fort Snelling is connected to some of the most important stories in America's military history. The 3rd Infantry served at Fort Snelling's Upper Post--on and off--from its construction until the Fort was decommissioned in 1946. Known as the Old Guard and Escort to the President, the 3rd Infantry is the longest serving, active infantry unit in the Army. The 3rd departed from its home at Fort Snelling to fight in Cuba and then the Philippines, during the Spanish American War. In Cuba the 3rd helped take the Stone Fort at El Caney and marched at night to join future President Teddy Roosevelt and his Rough Riders to capture San Juan Hill. The Buffalo Soldiers of the 25th regiment, who had been stationed at Fort Snelling, also fought in Cuba and at San Juan Hill. Nearly one-quarter of the soldiers that fought were African-American. After liberating the Philippines from the Spanish, the military acted as an interim government. The first acting military governor of the Philippines was Wesley Merritt, a Major General and former West Point superintendent. General Merritt had served as the commander of the Department of Dakota at Fort Snelling from 1887 to 1895 and had presided over the court of inquiry that investigated the death of General George Armstrong Custer at the Battle of Little Bighorn.
Last updated: November 22, 2019