Safety
Tour Safety
Keep in mind the following before taking a tour of Launch Control Facility Delta-01:
Due to restrictions on elevator size, for safety purposes we can only take six people at a time into the underground Launch Control Center at Delta-01.
Due to the need for enhanced security measures, employee safety, and visitor protection NO bags (backpacks, camera bags, diaper bags, purses/handbags, etc.) are allowed inside Delta-01.
Tours will be cancelled if on-duty staff determine road conditions to Delta-01 are unsafe due to weather conditions.
Your personal safety is our number one priority at Minuteman Missile!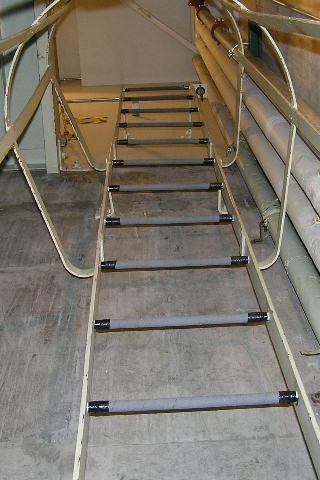 Requirements To Tour the underground Launch Control Center at Delta-01
As part of the tour at Delta-01 visitors will have the opportunity to visit the underground Launch Control Center (LCC).
The LCC was not originally designed to accommodate the general public. It is accessed by an elevator and a ladder. In the event of an elevator failure, visitors that are underground will need to be capable of climbing the ladder for a safe and timely exit.
Visitors who wish to participate in the underground part of the tour must be able to:
1) Physically capable of climbing two 15 foot ladders. These ladders are permanently attached to the wall and are very sturdy.
2) Children must be at least 40" tall and be able to climb the ladder unassisted
3) Be comfortable in a small elevator
4) Be comfortable with heights of approximately 35 feet or about 3 stories. The elevator door is an open grate,not a solid door.
Personal Safety
The Great Plains of western South Dakota are known for extreme weather and raw nature. The landscape may look relatively benign, but it can change in a matter of minutes. Be aware at all times, think ahead and stay safe!


It is not unusual for temperatures to reach triple digits during the summer months. There is little shelter at Launch Facility Delta-09, try to wear a hat and/or sunscreen while visiting the site. You should increase your intake of non-alcoholic, non-carbonated, caffeine free beverages such as water and juice. Wear clothing that is light in color and loose fitting and avoid staying outdoors in the extreme temperatures more than is neccessary. Heat related illnesses can be serious and sometimes fatal. This includes: sunburn, heat cramps, heat exhaustion, and heatstroke. Please take all necessary precautions to avoid heat illnesses.

The weather in western South Dakota can be extreme and unpredictable. Severe thunderstorms and dangerous lightning is possible with high temperatures any time in the summer. Check the weather forecast before you visit and be prepared. Keep a watch on the skies and be ready to move away from Launch Facility (Missile Silo) Delta-09 where there is little shelter. Snow most often occurs in heavy amounts during the late fall and early spring. During the winter, temperatures can drop to -20 F with wind chills of -50 F. Always be prepared. Dress in layers and keep a blanket as well as candles in your car.

At any time during your visit you may see wildlife. Please be cautious and avoid getting injured by the many types of wildlife. This includes, but is not limited to: deer, pronghorn antelope and snakes (venomous & non-venomous). Wildlife is protected under law in all national parks. It is illegal to bother, touch, or try to kill them. If you do encounter wildlife, please stay at a safe distance and do not disturb them.
Last updated: April 10, 2015