Patriots' Day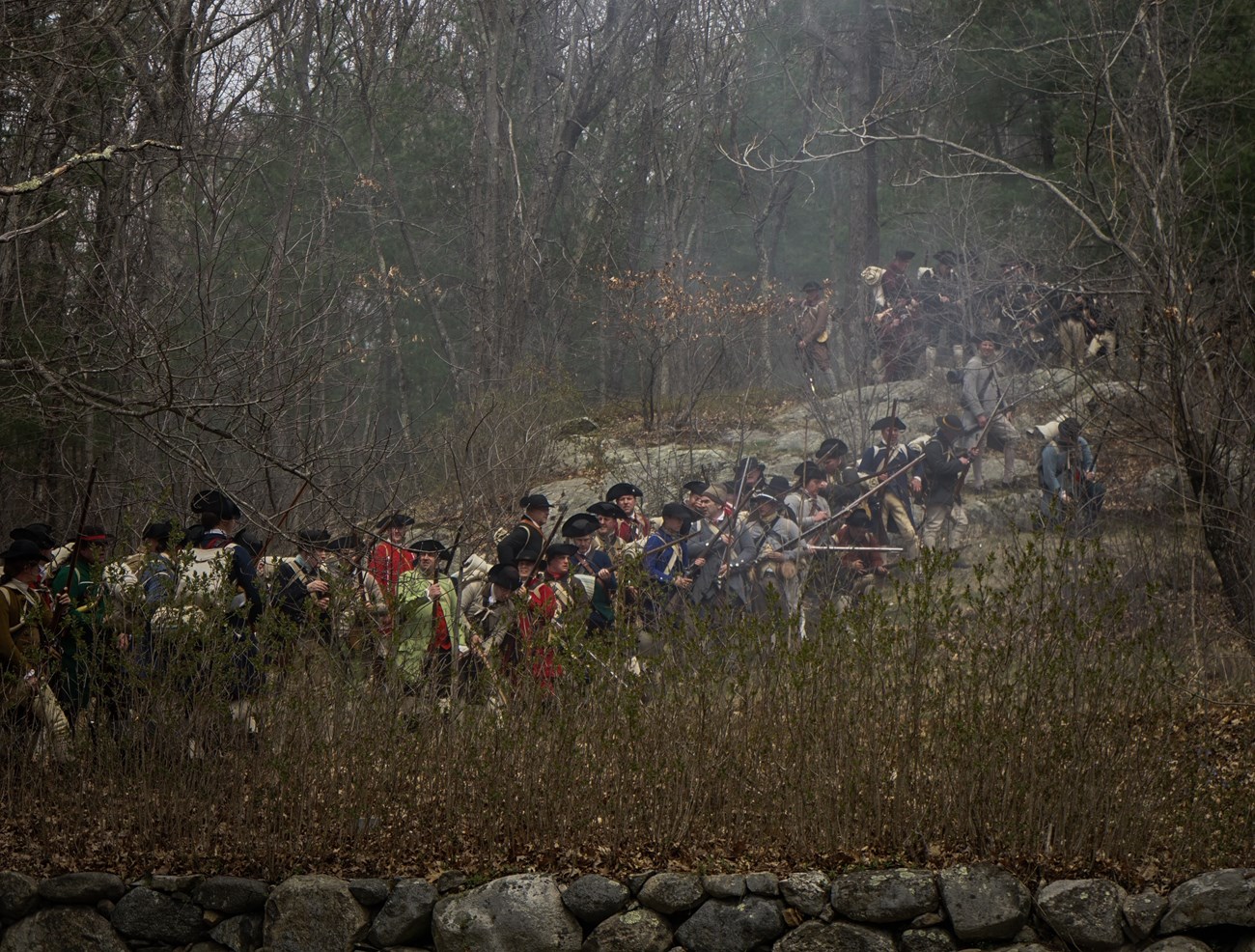 What is Patriots' Day?
Patriots' Day is a state holiday in Massachusetts commemorating the first battle of the American Revolution on April 19, 1775. Although Patriots' Day occurs annually on the third Monday of April, Minute Man National Historical Park host special programs and events throughout the month. The following is a schedule of our signature Patriots' Day events for 2024. Patriots' Day events supported by the Friends of Minute Man National Park
Signature events at Minute Man National Historical Park include:
Battle Road
2024 Date To Be Determined
This is the signature living history event at Minute Man National Historical Park, featuring hundreds of volunteer reenactors. Learn about the events of April 19, 1775 from many points of view through a full schedule of living history programs and demonstrations, including a fast-paced tactical demonstration along a restored stretch of the original Battle Road! Talk with volunteers portraying colonial civilians forced to leave their homes, minute men who answered the sudden call to arms, British soldiers fighting for king and country and Loyalists who saw the struggle differently from their neighbors.
---
The Search of the Barrett Farm
2024 Date To Be Determined
Colonel James Barrett House
Visit the home of Colonel James Barrett and talk with costumed park rangers and volunteers about colonial military preparations.
North Bridge Fight Commemoration
2024 Date To Be Determined
North Bridge, Concord
Commemorate Patriot's Day with a dramatic tactical demonstration involving Colonial minute men, British regulars, and musket fire, marking the "shot heard round the world."
Patriot Vigil
Thursday, April 18, 2024
North Bridge, Concord
7:45 pm
As darkness descends upon the North Bridge battlefield we invite you to come and reflect on the events of April 19, 1775 and the meaning of liberty. The evening ceremony will feature a lantern-light procession, poetry, music, and a recitation of the names of the soldiers who gave their lives on that "ever-memorable" 19
th
of April.
*To participate in the lantern-light procession, please provide your own REAL candle lantern. The procession will begin at North Bridge Visitor Center, 174 Liberty Street, Concord MA. From there we will march down the quarter-mile path to the North Bridge where the ceremony will take place. Participants are welcome to wear 18th century clothing if they choose, but please do not bring muskets.
Parking:
North Bridge Visitor Center:
174 Liberty Street, Concord, Ma
North Bridge Parking Lot:
280 Monument Street, Concord, Ma
---
Battle Road Anniversary Hike
2024 Date To Be Determined
Join National Park Rangers for an immersive 5-mile guided Battle Road trail hike to Fiske Hill and follow in the footsteps of the ill-fated British column during the 249th anniversary of the Concord expedition. This experiential program will bring the stories of the battle road to life through guided interpretation and immersive Living History elements. Learn about the trials and triumphs of those who experienced the bloody events of April 19, 1775.

2024 Registration TBD (coming spring 2024)

Program Logistics:
Program begins at Meriam's Corner and ends at Fiske Hill in Lexington, Massachusetts. Once registered, participants will receive additional details in a confirmation email.
This program is free of charge, although registration is required if you would like to reserve a limited seat on the post-program shuttle bus returning participants from Fiske Hill to the starting point of the program.
Be advised this program will be an expansive hike over 5-miles of Battle Road Trail on undulating terrain. Sturdy walking shoes/ equipment, weather appropriate clothing, and water are recommended. Park comfort stations at Meriam's Corner, Hartwell Tavern, and the Minute Man Visitor Center will be open.
Be advised bug spray is recommended
Be advised this program will feature musket fire along with other immersive living history elements.
Dogs are not permitted on this tour.
Parking:
Parking passes will be emailed in advance to registered participants.
Last updated: April 25, 2023