Patriots' Day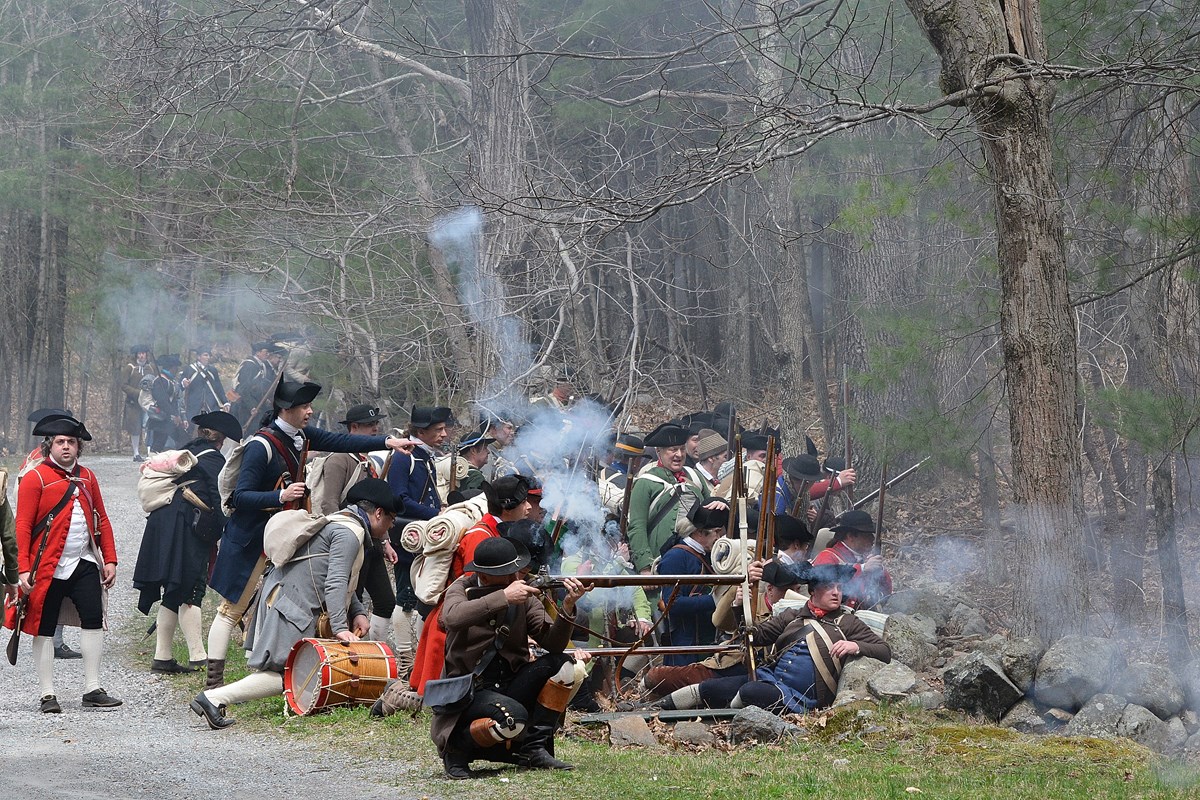 What is Patriots' Day?
Patriots' Day is a state holiday in Massachusetts commemorating the first battle of the American Revolution on April 19, 1775. Although Patriots' Day occurs annually on the third Monday of April, Minute Man National Historical Park host special programs and events throughout the month. The following is a preliminary schedule of our signature Patriots' Day events for 2023. More details of the 2023 schedule will be added soon.
Signature events at Minute Man National Historical Park include:
Caught in the Storm of War: The Civilian Experience of April 19, 1775:
Saturday, April 15, 2023
If you had to leave your home in a hurry, uncertain of your return, what would you take with you? Learn about the local civilians on April 19, 1775 who struggled to save their families and belongings from the path of war.
Battle Road Tactical Demonstration
Saturday, April 15, 2023
Watch hundreds of British and Colonial Reenactors engage in a Tactical Demonstration showing the running fight that occurred on April 19, 1775. After the demonstration you will have the opportunity to get up close and talk with these amazing volunteers and learn about British regulars and Colonial militiamen in great detail.
The Search of the Barrett Farm
Sunday, April 16, 2023
Visit the home of Colonel James Barrett and talk with costumed park rangers and volunteers about colonial military preparations.
North Bridge Fight Commemoration
Monday, April 17, 2023
Commemorate Patriot's Day with a dramatic tactical demonstration involving Colonial minute men, British regulars, and musket fire, marking the "shot heard round the world."
Patriot Vigil
Tuesday, April 18, 2023
As darkness descends upon the North Bridge battlefield we invite you to come and reflect on the events of April 19, 1775 and the meaning of liberty. The evening ceremony will feature a lantern-light procession, poetry, music, and a recitation of the names of the soldiers who gave their lives on that "ever-memorable" 19
th
of April.
Battle Road Anniversary Hike
Wednesday, April 19, 2023
Join National Park Rangers for an immersive 5-mile guided Battle Road trail hike. From Meriam's Corner to Fiske Hill, follow in the footsteps of the ill-fated British column
Program Times To Be Determined!
Check Back Soon!
Last updated: October 20, 2022