Major John Buttrick House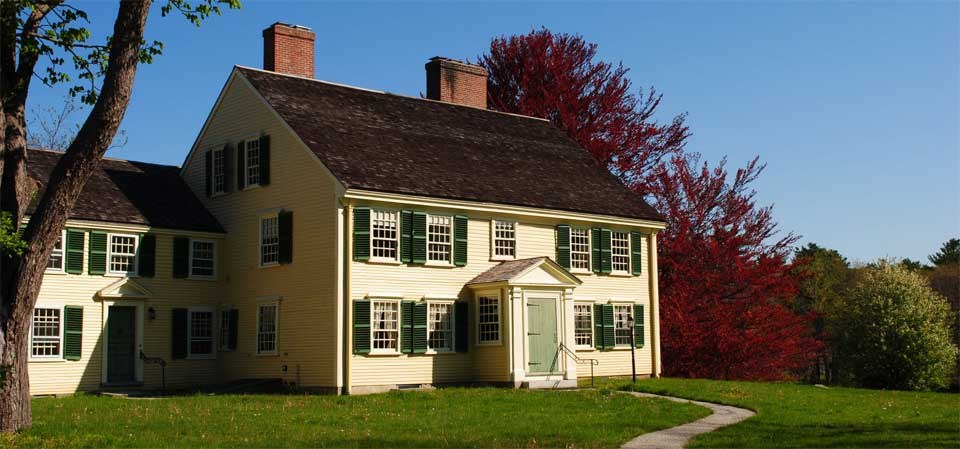 Major John Buttrick was of the fourth generation of Buttricks in Concord. His great-grandfather, William Buttrick, was born in England about 1617. William was among the dozen families who established the English settlement at the former Pennacook Indian villiage of Musketaquid (now Concord) in 1635. In the records of 1635, twelve lots totaling 215 acres are credited to William Buttrick.

Jonathan Buttrick, Maj. John Buttrick's father, built the house on family property on the north side of the Groton Road between 1710 and 1717. It was a two story house, rectangular in shape with an ell on the northwest side. Like most Colonial era homes, it has seen many alterations over the years.

In 1760 (June 24) John Buttrick married Abigail Jones, and over a 20 year period had ten children: John, Levi, Jonas, Abigail, Esther, Anna, Stephen, Phebe, Horatio Gates, and Silas. Always listed as a "Gentleman" in town records, John held a number of civilian jobs in town.

At the time of the battle in 1775, the 44 year-old John Buttrick was a well respected farmer in Concord and was active in town government. Up to 1775 he held several town posts: fence viewer, field driver, surveyor, tythingman, and had been constable for three years.
During the Revolution Major Buttrick worked actively on various committees. He served on the committee of Correspondence, Inspection, and Safety which coordinated the policies and activities between the towns and colonies, and subsequently the young republic. He was also in charge of raising troops from Concord.

During the summer of 1775, John served as major in the regiment of Col. John Nixon at the siege of Boston. He was commissioned lieutenant-colonel of Col. John Robinson's regiment, August 1, 1775, and was colonel of volunteers, acting as captain in Colonel Reed's regiment at the taking of Burgoyne at Saratoga, serving from September 28 to November 7, 1777. In the Rhode Island campaign in 1778, his regiment was called to reinforce the Continental Army.

From 1779 to 1785 John served as a town selectman, and in 1785, Concord voted that the "Thanks of the Town" be returned to Col. John Buttrick for his good services.

In 1790 Buttrick held his last post as fish officer, a calm job. A man of Concord, Buttrick lived out his years in the house that now bears his name.
Last updated: January 30, 2019