Colonel James Barrett House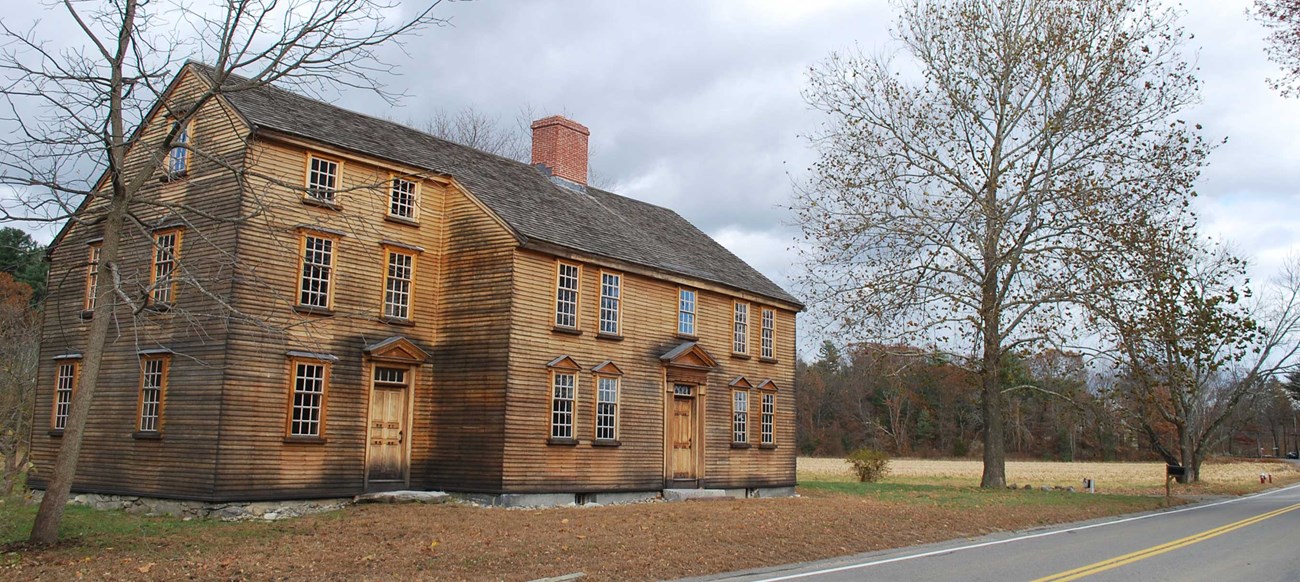 About two miles from the North Bridge, a centuries-old wooden farmhouse stands that was once the home of Colonel James Barrett and his family. Built in 1705 by Benjamin Barrett, James' father, the farm has been continuously productive. In 2003 the house was purchased by
Save Our Heritage
who began a mult-year project to restore the house to it's 1775 appearance. It became part of Minute Man National Historical Park in 2012.
On April 19, 1775 British Regulars searched this home looking for stores of artillery and ammunition. Though they found nothing there, Colonel Barrett and members of his family played significant roles in the first battle of the American Revolutionary War.
James Barrett was born July 31, 1710. In his adulthood he became one of the most respected political figures in Concord. He served as captain during the French and Indian War. He then became one of Concord's legislators, first representing the town in 1768 in Boston and honored by re-election on each succeeding year until 1777. He also served as Concord's delegate to the Provincial Congress in 1774 and was commssioned as a colonel, in command of a Middlesex Militia Regiment.
In 1775, James Barrett's household included two unmarried sons and a daughter, and an enslaved man, 14-year-old Phillip. While being an enslaver did not guarantee membership in the colonial elite, slaveholding did correlate to status and social position. Of the 15 known enslavers in Concord in 1772, ten had a professional, military,or civic title. While little is known about Philip, records indicate he enlisted in the Continental Army in 1780 and served at West Point, New York. There is no current record of Philip after his military service.
Col. James Barrett was tasked by the Provincial Congress to secure much of the colony's military supplies in Concord. These stores were distributed to some 30 homes for safekeeping. Among the military supplies were four brass cannons belonging to the Boston Artillery Company, which provincials secreted out of Boston from under British guard. Tory spies reported to Gen. Thomas Gage that these guns were hidden at Colonel Barrett's farm.
On April 19th, a contingent of about 120, of the total 700 British troops in Concord, marched the additional two miles from the North Bridge to Barrett's farm in search of arms and supplies. Fortunately, colonists, including members of the Barrett family, removed all the military supplies from the house and the cannons were safely relocated to Groton, Massachusetts.
When the British soldiers arrived at the house Barrett's 57-year-old wife, Rebeckah, was at home. She gave them permission to search, warning them they would find nothing. Several of the tired and hungry officers asked for breakfast. She gave them food and drink, saying coldly, "We are commanded to feed our enemy if he hunger." When Mrs. Barrett refused their offer of pay, the officers tossed shillings into her lap she responded "This is the price of blood."
Though James Barrett saw the beginning of the war, he did not live to see its end, dying on April 11, 1779. His old house still stands, and with it the stories of a Patriot family who risked everything, including their lives and property, for American Liberty.
Last updated: October 8, 2021