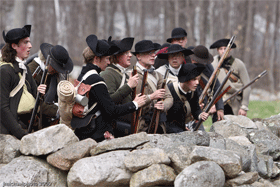 What is The Center for 18th Century Life?
The Center for 18th Century Life is a creative partnership between Minute Man National Historical Park and several 18th century living history organizations dedicated to the advancement of research-based living history.
What is the purpose?

In this unique partnership, the volunteer reenactors and park staff provide the creative drive, historical knowledge, and primary source research to plan and present living history events, and also the training and development necessary for creating and/or improving period impressions.
Meanwhile, the Park, with its many historic structures, landscapes, and interpretive expertise, serves as the forum for the sharing of knowledge and information relative to 18th Century New England, and an evocative venue for living history events. Our goal is to raise the standards of authenticity and interpretive value in living history programming here at the park and elsewhere in New England.
Battle Road Authenticity Standards
See the 1764 Manual Exercise performed by Minute Man NHP Rangers Jim Hollister and Roger Fuller
The Center for 18th Century Life and Battle Road
Battle Road, the largest and most intense of the annual Patriot's Day activities, is also Minute Man NHP's signature event and principle showcase of our living history efforts. The following summary, written in 2011, is an explanation of how all of the coalition partners of The Center for 18th Century Life work together to bring history to life.
---