Trading Cards
Kids! Looking for a fun and educational way to learn about America's Civil War and the Civil Rights Movement? We are honored to be part of the special "Civil War to Civil Rights" trading card program.

The National Park Service is offering more than 500 trading cards to mark the 150th anniversary of the Civil War. You must visit a participating park in person to earn a card (sorry, cards cannot be mailed). You can view all the cards online and discover stories from nearly 90 national parks in 31 states and the District of Columbia. You'll be surprised at what you will learn.
Separately these cards provide tools for visitors to appreciate new perspectives associated with individual parks and sites. Collectively they become ties that bind us together as a nation of complexities and help us provide opportunities to explore the concepts of the Civil War, the fight for freedom, and the ongoing struggle to achieve equality for all people.
On your next visit to Manzanar, ask a ranger how you can "earn" a trading card.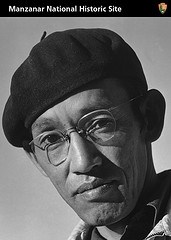 Toyo Miyatake
1895-1979
Before World War II, Toyo was a famous photographer. He became even more famous after he made a secret camera at Manzanar to document what happened there, saying, "My responsibility is to record camp life so that this...willnever happen again." This was very risky, but he felt it was his "historic responsibility."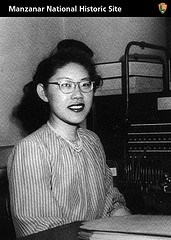 Sue Kunitomi Embrey
1923-2006
Sue dedicated her adult life to civil rights and to preserving the stories of Manzanar. She felt that, "America is strong as it makes amends for the wrongs it has committed." Sue organized the annual Pilgrimage for 37 years. Her efforts contributed greatly to the establishment of the National Historic Site so the stories of Manzanar would continue to be told.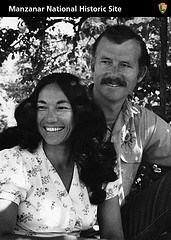 Jeanne Wakatsuki Houston
b. 1934
Jeanne was only seven when she came to Manzanar, yet her experience is known around the world. In 1973, she and her husband James published Farewell to Manzanar, one of the best-selling children's books of all time. Many people first learned about Manzanar from this book. "Imagine living as if you were in an army camp where you just slept in barracks, and you ate in the Mess Hall. The latrines were public."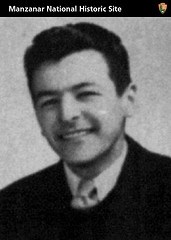 Ralph Lazo
1924-1991
How did a Mexican/Irish American kid become the most popular guy at Manzanar High? Since he wasn't of Japanese ancestry, he wasn't required to live at Manzanar, but he chose to be with his Japanese American friends. "I knew their loyalty. They hadn't done anything I hadn't done, and time has proven this." Ralph stayed at Manzanar until he joined the army in 1944. Ralph remained close to his Manzanar friends for the rest of his life.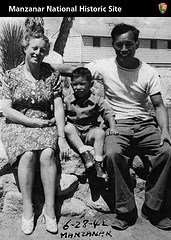 Elaine Black Yoneda
1906-1988
Elaine was not of Japanese ancestry, so she didn't have to go to Manzanar, but she fought to stay with her Japanese American husband Karl and their three-year-old son, Tommy. When told that Tommy would be taken from her to live in a camp orphanage, Elaine cried, "I'll be with my husband and child... If he goes, I go!" Elaine and Tommy left Manzanar after Karl joined the army in late 1942. The Yonadas dedicated their lives to promoting fairness and equality for all people.
Last updated: March 12, 2020