Stories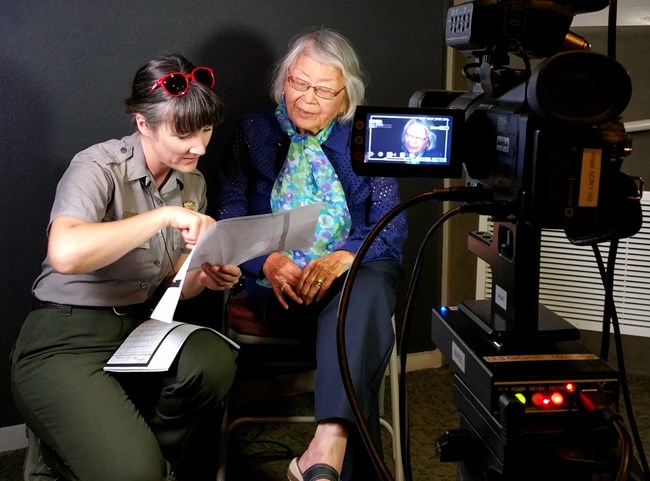 Manzanar Oral History Project
The Manzanar Oral History Project documents the World War II history of Japanese Americans at Manzanar and elsewhere through the personal accounts of former incarcerees, government staff, military personnel, and residents of the communities neighboring the camps. Topics cover immigration, settlement, forced removal, life behind barbed wire, and resettlement after incarceration. The project also documents other historical eras at Manzanar, including Native American life, Owens Valley and Los Angeles water conflicts, and the Manzanar orchard community.

Since 1999, Manzanar National Historic Site has collected more than 640 oral history interviews, preserving these stories and experiences for future generations. Manzanar's oral histories are used for educational and research purposes, and are preserved at the Manzanar National Historic Site archives. Some of the site's oral histories are available online through the Densho archive. Others are available online through California Light and Sound as well as on Manzanar's You Tube Channel.

The stories of many participants in the Manzanar Oral History Project are also included in the ID Card program. This program makes short oral history-based biographies accessible as digital booklets. These are ideal for teachers to use in the classroom, but are just as interesting for people seeking to read multiple first-person accounts of Japanese American incarceration.

We encourage those with personal connections to Japanese American incarceration history, Owens Valley history, or other relevant topics to complete and return one of our oral history workbooks. For Japanese American incarceration history or if your family has roots in the Owens Valley please e-mail us for the cooresponding oral history workbook.

Please contact our oral history coordinator at (760) 878-2194 ext. 3317 or e-mail us to talk with someone about this program. If you are requesting a copy of a particular interview, please include information to this effect in your message.
Researching the National Archives
If you are interested in obtaining records about a family member who was incarcerated or interned during World War II, please contact the National Archives. You can submit your request for these files by mail or online. For family members incarcerated by the War Relocation Authority (WRA) in Manzanar or the nine other WRA camps, you'll want to request their "War Relocation Authority Evacuee Case File." For family members interned by the Department of Justice, you'll want to request their "World War II Alien Enemy Detention and Internment Case File." Some people will have case files created by both agencies.

If you would like help determining which case files to request, you can ask a ranger at our visitor center at (760)878-2194 x3310 or e-mail us your request.


Last updated: July 13, 2021