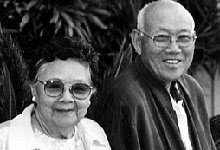 Manzanar Oral History Project
The Manzanar Oral History Project documents the experiences of Japanese Americans at Manzanar and elsewhere during World War II through the personal accounts of former internees, government staff, military police, and local residents. The project focuses on immigration, settlement, forced removal, camp life, and resettlement from 1900 to the present. The project also documents other historical eras at Manzanar, including American Indian settlement, early ranching, and the Manzanar orchard community.
Manzanar National Historic Site has collected more than 500 oral history interviews since 1999, preserving these stories and experiences for future generations. Manzanar's oral histories are used for educational and research purposes, and are preserved at the Manzanar National Historic Site archives. Some of the site's oral histories are available online through the Densho archive. Many participants in the Manzanar Oral History Project are also profiled in ID Cards.
We encourage those with personal connections to complete and return an oral history workbook.
Please contact our oral history department at (760) 878-2194 ext. 3312 or by email to talk with someone about this program.
Contact the National Archives
If you are interested in obtaining War Relocation Authority records about a family member who was confined during World War II, please contact the National Archives by mail or electronically.